Martha Marcy May Marlene Exclusive: Sarah Paulson Talks Film's Powerhouse
by Joel D Amos at . Comments
When Movie Fanatic was in Toronto for the film festival, we were given an exclusive sit down with Martha Marcy May Marlene star Sarah Paulson. The actress could not contain her excitement for the movie on two fronts. First, working with a visionary in writer-director Sean Durkin and second, the star wattage emanated from Elizabeth Olsen's fiery performance.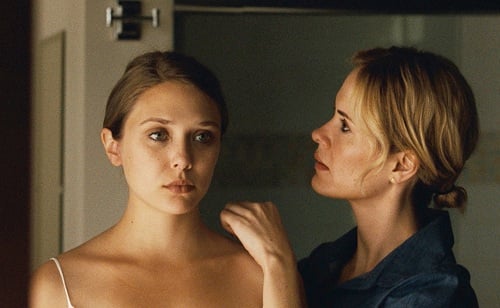 Paulson also dishes her onscreen husband in
Martha Marcy May Marlene
, Hugh Dancy, and what filming was like on location in beautiful upstate New York.
Martha Marcy May Marlene
is the story of a sister (Olsen) who seeks out her older sister (Paulson) when she escapes a cult led by John Hawkes (check out our
exclusive video interview with Hawkes
).
Movie Fanatic:
The locale of the lake house was just gorgeous where your scenes were shot.
Sarah Paulson:
Yes, we were very lucky. The movie was divided into two parts. They shot the cult/sect stuff for the first two weeks of the movie. Then the lake house was the last two weeks of the movie. The first part of the movie, they were staying in a nice but spider-infested hotel. My friend Maria Dizzia, who plays the eldest whatever you want to call her in the cult, texted me, saying, "Don't get room seven because there's a spider situation that's really out of control." I thought I was just going to go to the same hotel but it turned out that they moved hotels. So by the time we got there, we were staying at a golf course. We had this nice thing which was very fitting for our part of the story.
Movie Fanatic:
Since it was a low budget film, did the house also serve as where you stayed?
Sarah Paulson:
You're right. We didn't have any trailers. There was no place for us to hang out except for all the lovely bedrooms on the upstairs floor that you never saw in the movie. But that's where Hugh, Lizzie and I had our own rooms and we had internet access.
Movie Fanatic:
That wasn't the case for the scenes shot where the cult lives?
Sarah Paulson:
No! They couldn't even get a signal on their cell phone. So we were up here like, "This movie is awesome!" [
Laughs
] "I've got a nice bedroom, I can take a nap." I had my own room, with air conditioning. My cell service was working. They just kept saying, "You have no idea what we just dealt with." [
Laughs
]
Movie Fanatic:
That lake looked gorgeous. Did you take a dip?
Sarah Paulson:
Hugh and Lizzie both got in the water. Lizzie and I were supposed to have a scene that was in the water that Sean then took out of the water which I was bummed about because I felt really badly. Some of those water scenes, it was so cold. That's everything about that girl (Lizzie), she is so game for anything. She and Sean had such a close working relationship and she would just do anything he asked her to. She trusted him so much. We all did; we all do.
Movie Fanatic:
What was it like to work with writer-director Sean Durkin? Such a vision for a man so young.
Sarah Paulson:
He's 28 years old; he's not even 30 [
laughs
]. I knew just from working with him that whether or not the movie turned out, he was a person that was going to continue to have a career as a director. I saw the movie and I thought, "Holy Shinola." I remember we were shooting one scene in the kitchen and Sean was deciding to put the camera between us, through two windows to get Lizzie on the couch -- there's that one shot of her in the living room while we're talking in the other room -- and I remember at one point being like, "Dude, the scene's here." And he's like, "Yeah, yeah, but." I was like I don't know what he's shooting, I don't understand. I'm an actress, not a filmmaker, so I don't always understand when the camera's pointing in a certain direction what it's all taking in. And I just thought, "This guy is really something."
Movie Fanatic:
Can you describe how he worked?
Sarah Paulson:
Sometimes when a director gives you a note they will shout it at you, sort of across the set or something. They don't want to get out of their chair or they're just not thinking about what it would be like for an actor to get asked to make an adjustment in a scene in front of the whole crew and the other actors. So basically what you feel like is on the next take, everyone's going to watch to see if you can execute it properly. Sean had this wonderful quality, and for someone who was so young and had never directed a full-length feature I don't think, he would come up to you and he would very, very quietly say, "Can you try this?" in a way that nobody on set would have any idea what he said to you. It just felt incredibly respectful and it also made it feel like a secret, that you were going to do something just for him. When he went behind the monitor, he would see it. It just felt very private and safe. Right away I thought, "How does this young guy who's never done this before instinctually know that that's the way to do this?"
Movie Fanatic:
What was it like working with such a bright newcomer in
Elizabeth Olsen
?
Sarah Paulson:
What I took away from it was, "Wow! I'm working with the girl who's about to become the next big thing." I just knew it was going to happen. She's incredibly beautiful. She's such a wonderful actress, incredibly present. She's grounded, she's charming, she's smart, she's fun. And I just thought, "This girl. Boy, she's going to leave a lot of other girls in the dust." There's a new girl that comes around all the time but you don't always know that it's going to last and you think, "Oh, this is going to last for a few years and when she gets to be a grown-up, in her 30s, it'll probably go away." I think she's going to be the exact opposite. I think Lizzie's going to be here to stay.
Movie Fanatic:
How was it to act opposite Hugh Dancy, to have that volley that's so similar to tennis?
Sarah Paulson: I think Sean cast the movie very well. I'm not speaking about myself but when you sit there and you watch, you think, "Everybody is just so. It's just exactly right to tell this story." Hugh is an incredibly smart, witty, nimble actor and so you could kind of do anything and he could go right with you. The only people I worked with were Lizzie and Hugh and I felt like I was in the U.S. Open [laughs].

Movie Fanatic: It's such a moving, compelling story, what struck you the most when you first read the script?

Sarah Paulson: What struck me most about the story when I read the script was two-fold. One was that I was scared while reading it. It was a page-turner. Some people find it very unsatisfying at the end of the movie and they get mad because there's an ambiguity to it which is exactly what Sean wanted and which was on the page. I remember thinking, "Well, what happens to her? What happens to Lucy and Ted?" So, I think, one, I found the script to be scary and it read like a thriller to me and then it also read like a family drama. The other thing to me that was the most interesting about it was all that was not in the script. There was a lot of backstory that was not spelled out. So I had a million questions and when I talked to Sean, he answered every single one of them. So he knew. It was by design that it wasn't all written on the page. But there's part of me that wants to know why Lucy is the way she is. Why is she so uptight and regimented? Why didn't she try harder to find Martha? How far did she go? How much was it a relief for her when she finally realized she couldn't look for her anymore and wasn't going to even try? There were just so many questions and Sean had an answer for every single one of them. That was the most intriguing to me about the script because usually you will read a script that everything is spelled out for you, there's no mystery involved and you know exactly what the movie is going to look like and it doesn't seem that interesting. But this, I read and was like, "I have so many questions. What's going to happen?"