As has been widely reported and admitted in our exclusive interview with John Hawkes, Elizabeth Olsen makes an announcement in Martha Marcy May Marlene. As Jennifer Lawrence did in Winter's Bone (also starring Hawkes), audiences are witness to the emergence of a talent that has all the trajectory power of a meteor of movie magic.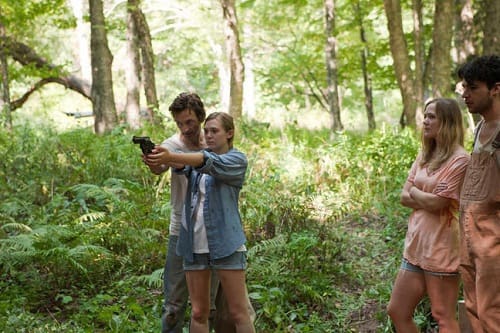 Olsen is the title character, one two-worded name for when she's in a cult, and the other her birth name. Her character is a lost and confused young woman who is taken in by the charismatic, but creepy Patrick (Hawkes). He oversees a cult where abuse is rampant and fear constant. Yet, there is something uniquely charming about this man that keeps his minions from running away.

That is until one day when Olsen makes a run for it. She heads to a payphone and calls her sister (Sarah Paulson), whom she has not spoken to in two years. Worried about her, Paulson's Lucy takes her in, no questions asked. Who is curious as to where she has been is Lucy's husband Ted (the always astounding Hugh Dancy).

It is at this point that the film simultaneously shows how Olsen is adjusting to life outside of the cult (not well) and how she lived while in the cult through flashbacks. Writer and director Sean Durkin weaves this web with a mastery that is all the more astounding given the fact that Martha Marcy May Marlene is his first film. There is a shadow that hangs over even the brightest scenes that cannot be shaken. Durkin has created a world, both in the cult and at Lucy's lakeside home, where one feels that we as an audience are sitting on a powder keg of emotion, violence and disdain that could destroy everyone.

He has a steady hand with his actors as well, producing performances from his four leads that are Oscar-nominee worthy, particularly with Olsen. Hawkes manages to take the role of a cult leader and not make it a cardboard cut-out. There are layers to his menacing that are downright scary and sensitive all at once. Even though he rules with an iron fist, that is never fully exposed in the film. Through his eyes and his vocal inflection, Hawkes conveys that power that could easily ruin your day without ever lifting a hand or emitting a stern remark.
The press is abuzz about Elizabeth Olsen and her performance, collectively calling her the next big thing. There is not enough ink in the world to describe the resonance of her work on this film. If Lawrence's Oscar-nominated turn in Winter's Bone was an announcement of her talent, then Olsen's role in Martha Marcy May Marlene is the equivalent of the Big Bang of creative excellence.

Martha Marcy May Marlene is one powerful film as a whole. Its parts are pristine and add up to a film that will stick with you long after the credits roll. In fact, the final 60 seconds of the film are so shocking, you won't be able to move until the credits finish rolling and the theater lights come up.