Paranormal Activity 3 achieves its fear factor by going back to the beginning and scores in the process. The film takes what happened in Paranormal Activity and Paranormal Activity 2 and puts it into context. The new film is an origins story. But, it is so much more as it is original, unique and yet still maintains that found footage fear-inducing feel on which the series has built its rabid following.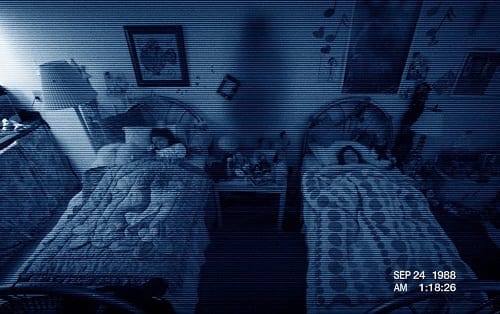 Paranormal Activity
creator
Oren Peli told us in our exclusive interview
that the third film is his "homage to
Poltergeist
." There's even a scary scene with a TV sporting that familiar snow screen that Carol Anne got sucked into in the Steven Spielberg film.
There is a definite nod to
Poltergeist
in
Paranormal Activity 3
, yet it is clearly an astounding piece of work in its own right. The elements of the first two films that shocked audiences are all on display, with a slightly different distinction. This is the 1980s and the audience goes back to the beginning to discover how Katie and Kristi went from normal children to those possessed by the
Paranormal
.
As it is the decade of decadence, the video cameras are less digital and very VHS. This provides the found footage with a different feel that adds up to something more terrifying in that as the audience squints to get a clear picture of the sometimes grainy footage, the terror factor only increases. Sometimes you think you see something, and sometimes you don't. But, it is exactly because of that reason that when the horror presents itself, it is all the more frightening.
Katie and Kristi are children, barely three and five years old. Their mother Julie (an astounding Lauren Bittner) and her live-in boyfriend Dennis (Christopher Nicholas Smith) are taking care of the two little girls in their sprawling California home. Dennis is a wedding videographer and after a few… let's say weird things happen in their abode, he sets up a few of his cameras to capture what may or may not be happening.
Complicating things is the fact that the couple's youngest is talking to an imaginary friend named Toby. As fans of the series know, Toby is most likely not imaginary, nor is he a friend. As for plot, my Movie Fanatic fans, that's all we're going to give you. The rest must be seen to fully appreciate the apparition that is Paranormal Activity 3.

Where Paranormal Activity 3 works so well is it introduces new facets to the franchise. By going back to the beginning, Peli and his creative team have made their Paranormal world wide open to new sights and scares. Movie Fanatic wants to see the film again. That speaks volume to any film, much less a horror movie where it may be easy to have the thrills dissipate after a single viewing. There are so many layers to Paranormal Activity 3, multiple viewings are necessary to fully milk all the movie madness out of a horror series that has become an instant classic.