Puss in Boots: Amy Sedaris and Billy Bob Thornton Talk Playing Jack and Jill
by Joel D Amos at . Comments
In Puss in Boots, starring Salma Hayek and Antonio Banderas, Billy Bob Thornton and Amy Sedaris play the fairy tale icons Jack and Jill. Only in this world, Jack and Jill aren't little kids, and they are married. "That's why they chose the hillbillies to play them," Thornton said to laughter. Traditionally Jack and Jill are siblings. But this is what the world of Shrek that Puss in Boots is spun off of, does so well.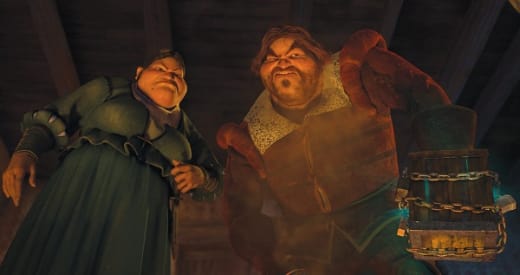 Puss in Boots
was Thornton's first foray into the animated world and he loved every minute of it. He and Sedaris have a field day with their Jack and Jill, a couple who strike fear in the hearts of all of the residents of Puss' village.
Thornton and Sedaris sat down with Movie Fanatic about finding their inner Jack and Jill, and Billy Bob even gives us the scoop on his next directing effort,
Jayne Mansfield's Car
.
Movie Fanatic:
Is there a perverse pleasure in taking fairy tale characters and turning them into the edgy characters that we have in
Puss in Boots
?
Billy Bob Thornton:
Absolutely. Here's the thing though, fairy tales and nursery rhymes, when you're kids you don't think about it, but you grow up and you notice that those things are pretty dark. I can't believe that we read those things to our kids! Hansel and Gretel terrifies me. Doing this and being able to make these edgy weird characters out of ones that are traditionally not, I mean, you saw the pictures [
laughs
], I decided yesterday that something went wrong when they went up the hill to get the pail of water. When they came back down, it was a whole new world. Yeah, it was a lot of fun. I'm a rookie at this, and so for me it was a great experience period. Chris (Miller), as Salma and Antonio said, is a terrific director. I wouldn't have known, left to my own devices, how to do something like this. Chris just stood there and said, "Say this and say it like that." I just went, "Oh, OK." I like working with a director in the animated world because usually in live action movies, the director is the first guy I go over and grab by the neck. I didn't have to strangle him one time.
Amy Sedaris:
Yes, check, check, check, check, check. I liked Jill's size in the movie. If this was a regular movie, they wouldn't have wanted me [
laughs
]. I thought she was attractive. I love that they gave me a husband in the movie and the entire pig family. In my family, we compete to see who is going to be the best aunt or uncle, and because of this movie, I'm winning.
Movie Fanatic:
Since your Jack and Jill were so different than the nursery rhymes, was director Chris Miller such a help to you Billy Bob, since this is your first animated feature?
Billy Bob Thornton:
Our characters were completely different than the story we read as kids! Humpty Dumpty at least was an egg [
laughs
]. Our guys were these huge, fat... my guy looks like Henry VIII's mentally challenged brother or something. I completely relied on Chris not having done this before. He gave me who the guy was. My only job was to come up with a voice that kind of fits him. You look at the character's drawings, and you look at yourself -- I weigh 140 pounds -- and you look at this huge guy. I just had to sound like my voice had more weight to it, if you will. I just deferred to Chris, every moment.
Movie Fanatic:
How was it being part of a picture that celebrates Latino culture?
Amy Sedaris:
I love anything with an accent. I love the music in the movie. I just love it. That's what I liked about the movie, I feel like I really learned about someplace else.
Movie Fanatic:
Billy Bob, as a musician, how did you find the music in
Puss in Boots
?
Billy Bob Thornton:
I think it's fantastic. I think people don't realize how important music is until you see a movie without it. The music in this movie, I think propels it nicely. It also doesn't get in the way. When music and film are married together perfectly, that's one of the most exciting things there is, but you don't want either one of them to point themselves out. This didn't. It was a perfect marriage.
Movie Fanatic: Do you have something new film-wise coming out?

Billy Bob Thornton: I just finished directing again for the first time in 11 years. It's a movie called Jayne Mansfield's Car. It takes place in the 1960s and we're hoping that it will come out sometime late spring or fall of next year. It's a movie that stars myself and Robert Duvall, John Hurt, Kevin Bacon, Ray Stevenson and Francis O'Conner. It has been a great experience.

Movie Fanatic: Is it like Sling Blade or All the Pretty Horses in feel?

Billy Bob Thornton: Tonally, it's Sling Blade like. I think there's more humor in it than Sling Blade. Once again, it's dark humor, as usual. Just so you know, Jayne Mansfield is more of a metaphor for the movie. It's about how war affects different generations. It's about the examination of life and death and the fascination of those.