Puss in Boots stepped out of the Shrek spotlight to win the box office in its first weekend of release. The film took in $34 million to best last week's box office winner, Paranormal Activity 3. The third in the Paranormal series added another $18.5 million to its take bringing its domestic total to over $81 million. Think that will guarantee a fourth?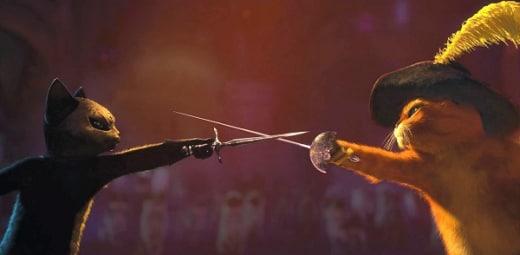 What's also interesting to note is that this is the weekend before Halloween and it was an animated orange cat that scared up all the receipts and not the horror franchise that has owned Halloween weekend.
In Time
provided a solid opening, coming in third with $12 million. The
Justin Timberlake
foray into action scored pretty well with critics (check out our
In Time review
).
The other new release, Johnny Depp's
The Rum Diary
did not fare as well. It only earned $5 million since its opening. Although the film is solid and should get good word of mouth (check out our
Rum Diary review
), perhaps it will pick up steam as the weeks move on.
However, that may be difficult to do with the powerhouse that is sure to be
Tower Heist
starring Eddie Murphy and Ben Stiller opening November 4.
The box office top 10:
1.
Puss in Boots
, $34 million
2.
Paranormal Activity 3
, $18.5 million
3.
In Time
, $12 million
4.
Footloose
, $5.4 million
5.
The Rum Diary
, $5 million
6.
Real Steel
, $4.7 million
7.
The Three Musketeer
s, $3.5 million
8.
The Ides of March
, $2.7 million
9.
Moneyball
, $2.4 million
10.
Courageous
, $1.8 million