Puss in Boots Exclusive: Director Chris Miller Takes Us Inside Puss' Boots
by Joel D Amos at . Comments
Chris Miller was ready for his close-up. After serving as a story artist for DreamWorks Animation on such films as Antz, Shrek and Shrek 2, he stepped up to the director's chair for Shrek the Third and now the studio has entrusted him with their Shrek spin-off, Puss in Boots, that stars Antonio Banderas and Salma Hayek. Miller tells Movie Fanatic exclusively about the process of giving the film feline his own spotlight and what, he feels, is the secret to why the world adores that adventurous cat.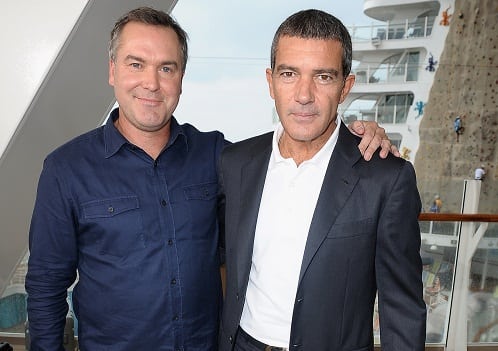 Movie Fanatic:
What is it about this cat, Puss in Boots, that so resonates with people?
Chris Miller:
For me, it's a lot of things. It's a multitude of things. On a purely visual level, his size, his furriness, you could kind of put him in your pocket. He's got the cool little uniform and he's very proud, very serious, with a fierce sense of loyalty and honor. But he's also a ladies' man, so he's half lover, half fighter. He's definitely got a bit of the devil in him because he's a total troublemaker, a manipulator with a huge heart and a capacity for forgiveness. He's all these great elements and he just presents himself as larger than life. So I always dug it. I was a board artist on
Shrek 2
. And at the time, not only myself, anyone else who boarded on that film, five of us, we always were all about the cat. Once the cat was on screen, all of our attention went to the cat. Forget about the ogre, or the donkey. We would just write endlessly, we had tons of freedom to do a lot of writing back then. So we'd just come up with backstories for him, like some weird adventures he's been on, or just have him mess with the donkey [
laughs
]. He was just so much fun. So when DreamWorks decided to make the movie, I was first in line. I really, really wanted to work on it.
Movie Fanatic:
Were you excited after
Shrek 2
when there was so much buzz about Puss in Boots?
Chris Miller:
Yeah, definitely. I responded the same way. I just thought it was so unusual, kind of a photo-realistic cat standing upright and really intriguing and I really wanted to know like, "Where'd you get those boots?" [
Laughs
] "Where'd you get that accent I don't understand? Why are you Spanish?" There was always tons of intrigue.
Movie Fanatic:
A large component has to be Antonio Banderas providing the voice of Puss in Boots. As a director, how was it to have him in the voice booth and what is it about his talent that is so profound?
Chris Miller: He's incredibly dedicated and invested. Another thing that's great too is that over the years, since he first started doing it 10 years ago, Antonio's done a lot of writing, producing and he's directed a couple of films and he's about to direct another one, so he's just invested as a filmmaker and storyteller. We talked a lot before the movie was made, in terms of "How do you see this, Antonio, before we really dive in? What would you offer? What kind of story do you want to see?" After laying out a sort of bare bones origins story, he was very bent on "We've got to crush his heart." He's really big on the more dramatic you can make his story and break him, break his heart, the more satisfying he felt that journey would be. He was so right. Make the movie about reclaiming something because he's such a bloated, determined character -- and wound him. All of that because he takes himself so seriously too which makes him 10 times more funny to me.

Movie Fanatic: And joining the circus is Salma Hayek, another feline, what was the thought process behind that?

Chris Miller: We knew we wanted a love interest and wanted someone who could sort of match him step for step if not better him in a lot of situations. It's great for the romantic interest because instantly you create this weird little competition between them which in turn creates a little more heat between them. Those guys are great together, which we knew. We instantly knew, "Okay, those guys will be beautiful together. They've worked together before." I didn't really realize how great Salma would sound. I thought she would sound great but she exceeded my expectations entirely. Her voice is so rich, smoky and layered -- a beautiful texture to it. And then on top of that, I remember right when we were casting, I had just seen a bunch of 30 Rock, she had a little run in 30 Rock and I thought she was brilliant. I had no idea that she was that funny. She was in Ugly Betty right around the same time and I thought she was hysterical. I don't think she gets credit enough for how good a comedic actor she is. And most importantly, we had Valentina (Salma's daughter) in our back pocket [laughs].

Movie Fanatic: When you're working with people like Antonio and Billy Bob Thornton who have previously directed, does that elevate the film?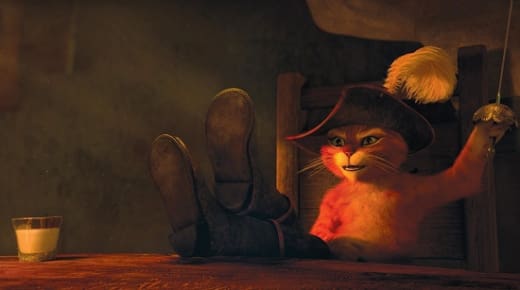 Chris Miller:
Sure, it only adds more to the mix. Billy Bob for instance, he's a great filmmaker -- actually, I can't wait to see his movie (
Jayne Mansfield's Car
), because talking to him about it, he's pretty jazzed about it. Even when they were shooting, he was like, "I think this one's coming together." He was really psyched. But they just understand the process. Even if this process was foreign to them in terms of performing, they just appreciated good storytelling and the visual side of it and what it takes to put a movie together... None of those guys were about themselves when it came to making the movie. They were just always into the project and what's going to serve the project best. So if you talked to them in the context of the film and the storytelling, it's like they get it on a large level. It's not just "my character, more for me." It was never like that with any of them. So it was great.
Movie Fanatic:
What's next for you and
Puss in Boots
?
Chris Miller:
I have no idea [
laughs
]. We'll see what happens with the film. My future will be determined in the next few weeks just by if the film really can find the kind of audience I hope it can and have the impact I think it can. We might be making other
Puss in Boots
, we'll see...