Puss in Boots, as embodied by Antonio Banderas, has gotten his own film from DreamWorks Animation and the results are purrfect. Puss in Boots works on so many levels, it's hard to know where to start. Banderas, of course, is brilliant as the film feline who lives to bring justice to those without. But, there are elements of the Shrek universe from which he was born that are present in the film allowing it to be smart, sassy and sensational.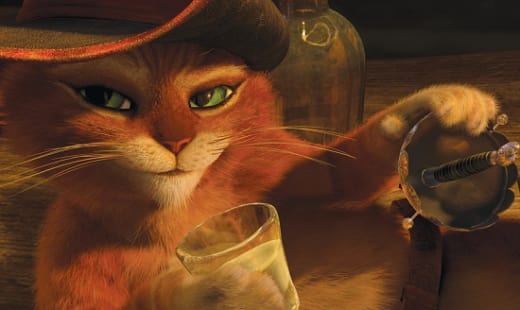 In
Puss in Boots
, Banderas' alter ego is established to be an orphan growing up in a small Old West style Spanish village. The scenes of him as a kitten produced the loudest "ahhhs" I have ever heard at the cinema. He takes to a fellow orphan, Humpty Dumpty (
Zach Galifianakis
), and the two become fast friends. Humpty, it is established, has a dream of possessing the mythical magic beans that if planted in exactly the right spot, will produce a beanstalk that leads to a castle in the heavens. Once up there, a goose can be found that produces solid gold eggs.
As the two mature, their bond grows. But, on one fateful day, Humpty Dumpty's devilish side gets the best of him and the trouble they get into leads to Puss in Boots having to leave his hometown and wander the earth, constantly looking over his shoulder for the law that pursues him. It is a case of mistaken identity of sorts that Puss vows to make right, especially for the woman who runs the orphanage, whom he affectionately calls mom. Her disappointment above all else is what drives him.
The action picks up with Puss as an adult. Waltzing into a bar for a few shots of whole milk, Puss overhears about a couple, Jack and Jill (
Billy Bob Thornton and Amy Sedaris
), who strike fear into the hearts of men. The duo have in their possession, you guessed it, magic beans. During his quest for the magic beans, Puss meets Kitty Softpaws (Salma Hayek). Immediately the pair's chemistry pops. Their dance, literally and figuratively, is one of the reasons
Puss in Boots
is such an incredible film.
As DreamWorks Animation does so well, the visuals are impressive. Few 3D films take the filmmaking technique and make it as much a piece of art as
Puss in Boots
achieves. Director Chris Miller (don't miss our
exclusive interview with the Puss in Boots director
) has taken years of work as a story artist for DreamWorks and crafted a modern animated masterpiece. The action sequences are electric and suspenseful, making it incredibly easy to forget we're watching animated cats running wild in the Spanish countryside.
As the Shrek series does so well, there are countless pop culture and fairy tale references that are sure to delight children and adults alike. Puss in Boots even utilizes a cat that only has one line he utters throughout the movie to explosive humorous results. You'll know what we mean when you witness the magic of Puss in Boots.

From beginning to end, Puss in Boots is more than the cat's meow. It is one of the more enjoyable experiences at the movies in recent weeks. Maybe not top 10 of 2011 level, but the film is right there.