Real Steel is the number one movie at the box office, and rightfully so (check out our stellar Real Steel review).
Given the film's ability to inspire cheer in your seat moments, Movie Fanatic has collected a few Real Steel quotes to brighten up your Monday. The story of Charlie (Hugh Jackman) and his son Max (Dakota Goyo), who find common ground as their robot Atom begins an unbelievable winning streak, is a triumph of the spirit.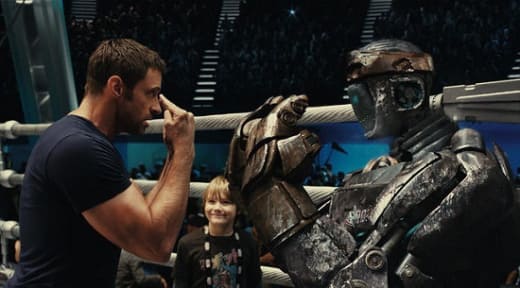 Charlie:
Times have changed. Fighting has changed. But the crowd? They never change. They just get bigger. The human body can only take so much. But the steel never stops. |
permalink
Max:
What are we looking for?
Charlie:
Anything I can use to put a fighting bot together. |
permalink
Max:
His name is Atom. Get 'em a fight. |
permalink
Max:
What was he like?
Bailey:
As a boxer? Charlie was the top contender, number two in the world. Then, the fight game changed. |
permalink
Charlie:
I just need a little loan.
Finn:
As much as I like you dude, you're a bad bet brother. |
permalink
Bailey:
Give it up Charlie. You got nothing left. |
permalink
Max:
I need you to teach him to box.
Charlie:
Are you kidding me?!
Max:
You know this fight game inside and out. He needs your moves, your commands.
Charlie:
I can't, I can't!
Max:
Yes, you can. |
permalink
Charlie:
I know I've done all kinds of wrong by this kid. I'd just like to do one thing right. |
permalink