Sugar Ray Leonard walks into a room and the man charms. Sure, he's a cultural icon having achieved the moniker of one of the best boxers ever. It was that pedigree and his easy demeanor that made him the perfect choice to serve as boxing coach and choreographer for Hugh Jackman and the robot boxers of Real Steel.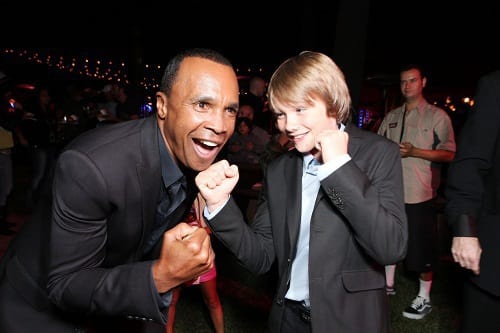 Leonard spoke with Movie Fanatic at the Four Seasons Hotel in Beverly Hills recently and let us in on a few secrets about filming the
Real Steel
robot boxing tale that is equally a compelling father and son story. The champ dishes what Jackman (don't miss our
Hugh Jackman interview
) brought to the table, his first reaction upon seeing his boxing moves in living color as executed by the robots Atom, Zeus and the others as well as answers the question: What are his favorite boxing movies?
Movie Fanatic:
Hugh Jackman's father was a boxer. How did you find him when you got in the ring to train him?
Sugar Ray Leonard:
Hugh wanted to look the part. It was my objective to not really go through the punches and everything, I wanted him to know and feel like what it was to be a fighter or a trainer. The key was when he did throw the punches, or shadow box with Atom, that he had to exhibit in his face that power and speed. He had to surrender, stop being Hugh Jackman -- that guy on Broadway -- that was the only way it would resonate and come across the screen.
Movie Fanatic:
How was it different getting him ready then to be a trainer of Atom, the robot?
Sugar Ray Leonard:
That too, because a trainer and a fighter is a special relationship because they trust each other. But, there's also an intimacy whereas at some point you don't always have to talk to your fighter, you look at him. And you know what he's thinking. I had that same relationship with my trainer back in the day. Once he pulled that off, I knew the rest would be easy.
Movie Fanatic:
Fighting is about heart too, how do you know when they have the heart of a fighter?
Sugar Ray Leonard:
Once they hit that defining moment when there's a point in a bout – whether he goes down or suffers a cut – that's when you see that intestinal fortitude. That ability to reach down and grab that thing we call energy. I do motivational speaking all the time and use boxing as a metaphor. The difference with people who make it, is that much of the difference is that person who wants it that much more is going to go through the pain that allows him or her to reach down and continue towards success. That was another thing that I was trying to convey to Hugh.
Movie Fanatic:
How interested in the movie business are you?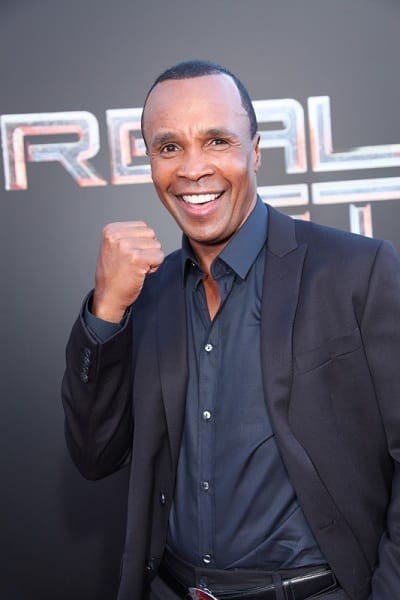 Sugar Ray Leonard:
I'm a fighter and I love boxing, but this was brought to my attention by Stacey Snider (DreamWorks executive), our kids go to the same school. At a parents-teacher meeting -- I do go to those things [
laughs
] – she had a script in her hand and said, "I think I have something for you." Once I read it I thought this is great. When I got on set, I saw these guys on stilts with motion capture suits. I still didn't get it with the robots. At some point when I was choreographing and looked at the robots and I saw robots doing what I choreographed, I said, "Holy (expletive)! This is it!" Because of technology, these robots can really throw the punches. It's not like back in the day with Rock 'Em Sock 'Em. If they had that capability, we would have sucked [
laughs
].
Movie Fanatic:
Did you have to change your boxing style to fit the robots in
Real Steel
?
Sugar Ray Leonard:
None at all. In fact, I gave all of them a real signature move that one robot would hit the other robot below the belt, real low, I said that's a good punch… you feel it! Atom reminds me so much of myself because he's a little, quiet guy like me. So, there's a few of my punches in there with Atom.
Movie Fanatic:
You're so integral into this film working as well as it does. What other boxing movies struck a chord with you?
Sugar Ray Leonard:
The boxing, there are a few that really hit home with me and one that really resonated with me is
The Champ
. I cry every time I see it. I love it.
Raging Bull
was another.
The Hurricane
, I thought Denzel Washington did a superb job.
Rocky
, have to give it to Sly. I saw
Rocky
the night before my first professional fight. I was not the underdog. It was about the heart -- that really got me. And
The Fighter
, that was a great movie too. Certain movies really hit home. Not because they execute the punches the right way, it's because of this [
points to his heart
].
Movie Fanatic:
Would you ever be interested in producing your own animated boxing film where you could just create a world by scratch? I think that would rock!
Sugar Ray Leonard:
Would you finance it? [
Laughs
] I'm in such a great place in my life, this has been a special experience with
Real Steel
. It happened at a point in my life where I was able to really enjoy it. This part of my journey… it's going to look great on my resume [
laughs
]. Working with the cast, the crew, it has been truly awesome.
Movie Fanatic: Each robot has a different style. Where did you get the inspiration for those styles?
Sugar Ray Leonard: Zeus was without question, George Foreman. I pulled a piece of (Marvin) Hagler here, a little bit of (Roberto) Duran there, a bit of Tommy Hearns.

Movie Fanatic: Lastly, do you miss boxing?

Sugar Ray Leonard: I don't miss getting hit [laughs]. But I do miss the camaraderie and the strategy. I was really good at that.