When Rise of the Planet of the Apes arrived on screens in August, few expected the film would be the smash it became. Starring James Franco and Freida Pinto, the film surpassed expectations and became one of the year's biggest hits. Now, 20th Century Fox Home Entertainment has announced when it's coming home on Blu-Ray and DVD.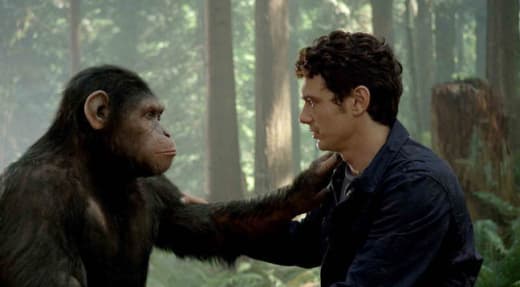 Rise of the Planet of the Apes
will arrive on home video on December 13 and include a slew of extras sure to excite even the most passive of
Apes
fans.
Franco plays Will Rodman, a scientist who believes he is on the path of curing Alzheimer's. His treatment is showing signs of working as it increases the intelligence of the primates on whom he is testing the formula. Only problem is his treatment is having side effects. Those small little issues will eventually lead to the destruction of the human race, hence the title of the film.
Sequel ideas for Rise of the Planet of the Apes
have already been flirted with -- where would you like to see the series go from here?