After releasing his entire Star Wars Saga on Blu-Ray, George Lucas is rereleasing his catalog in 3D. Star Wars Episode 1: The Phantom Menace gets the first 3D go around and Lucasfilm has released a new and improved poster for the film. And by improved, we mean it is missing something completely.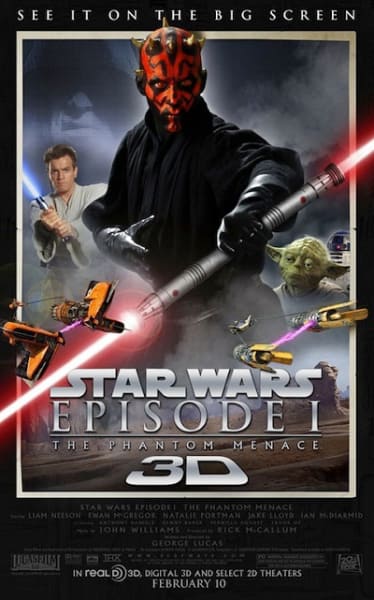 Notice it? On the original poster (below), front and center is our little boy Darth Vader, aka Anakin Skywalker. He's completely gone from the new 3D poster for
Phantom Menace
in lieu of pumping up the Darth Maul character (rightfully so!).
Audiences' opinion on the first chapter in the
Star Wars
series has divided fans since it debuted. Regardless of where you sit on that side of the fence, seeing
Phantom Menace
in 3D, at least visually, should be astounding.
Also gone from the film's original poster are Liam Neeson and Natalie Portman. Brought to the forefront in the 3D poster for
Phantom Menace
are C3PO and R2D2. Interesting choice, indeed.