The art of birding gets the big screen treatment in The Big Year and its cast -- Steve Martin, Jack Black and Owen Wilson -- take Movie Fanatic inside the making of the funny and heartfelt film. The trio of funny men who are also blessed with killer dramatic chops, star as a group of guys with a passion for the aviary species of the world. Each decides to take an entire year to witness as many varieties of birds across America as humanly possible, known in the birding world as The Big Year.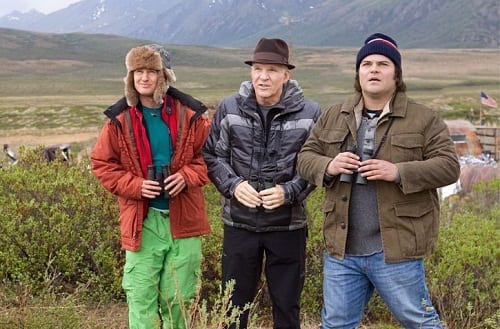 Wilson's character, Kenny Bostick, is the world record holder. He is the king of the birding world and with two upstarts that he feels will be nipping at his heels -- Martin's Stu Preissler and Black's Brad Harris -- he risks everything to get back out there to keep his record solely his.
The Big Year
is an amazing film in that it makes the sport of birding feel suspenseful. (Stay with Movie Fanatic for our review publishing October 14.) Black, Martin and Wilson each identified with their characters and each saw them as an Ahab in search of their Moby Dick -- whereas in this case in
The Big Year
, the two-ton whale is thousands of gorgeous birds.
Movie Fanatic:
What most compelled you about the script?
Owen Wilson:
I think they did such a good job with the script and the story that these characters are really going to be so different than anything you've seen before. I'm sure some people could say, "How thrilling can it be to watch someone compete in the amount of birds you see over the course of a year?" But you see this obsession and passion these guys bring to it. There's something life affirming and funny about that.
Jack Black:
I liked how my character's been stuck working at a power plant when his real passion is birding. He feels like his life is passing him by.
Owen Wilson:
What also attracted me to it was this sense of longing that I think people have to have their life mean something, to achieve something that they can be proud of. In this movie, I want to be the best at something. That's a hunger that a lot of people have.
Steve Martin:
I appreciated how my character was having a crisis of confidence. He wasn't doing what he really wanted to do. He knew exactly what he wanted to do, but it was other people who were trying to prevent him from doing it. He just thought, "Now is the time to do it." This is a story about adventure -- people seeking adventure and having a passion and pursuing it. In every case, we are pursuing something that we want. I know exactly what I want to do, and I'm going to do it against the will of those who don't want me to.
Movie Fanatic:
What about that aspect of following your passion? Sure,
The Big Year
is about birding, but it could apply to any aspect of life. You agree?
Steve Martin:
Definitely. My character has been a very successful businessman his whole life. They're hounding him to keep at it -- to run another company. He's looking for a big change in his life. He wants to go off and do this other thing that the outsiders cannot understand. They can't understand his desire. It's like wanting to be an artist. People say, "What? You're never going to have any satisfaction from doing that. You're giving up the regular routine that's expected of you." You go off and you do it and you get a tremendous amount of satisfaction from it.
Movie Fanatic:
Did you enjoy the competitive aspect of
The Big Year
story as well?
Jack Black:
Yes, the story in the script was the intense competitive nature of man. Even in something as insignificant or as just small potatoes as bird watching. The stakes are so low. There's no glory and fame. But to be the best, there's something really funny about that. It's a little microcosm about the plight of man. Something resonated in that silly little endeavor.
Movie Fanatic: What was it like to film on location?

Jack Black: We've had some incredible locations in this movie. It's always good to get out of the studio and be in the actual environment that you're supposed to be in, as opposed to a studio where there's a painted background or a green screen. It just makes it easier. You don't have to imagine you're in a place. Also, it's nice to be in beautiful places.

Movie Fanatic: What did you take away from The Big Year experience?

Jack Black: Big Year is very funny. It's got some great comedians in the movie. You get to see three dudes, super obsessed and competitive with each other. And you get to see some really beautiful locations. That is the experience that is The Big Year.

Movie Fanatic: What did you most enjoy about working with director David Frankel?

Jack Black: David Frankel approached me about this movie years ago. He had the book and he really wanted to make the movie. He had a script. I said, "I love your work, I'm in." This movie is really funny and cool. Then I didn't hear from him for about three years and I thought, "What ever happened to that movie? Oh, well. I wish it would have happened." All of a sudden he called and said, "The movie's on, we're doing it next month. You've got to be ready. Pack your bags." I'm like, "Whoa, I'm not ready!" But, that's the way it happens in this biz [laughs]. When all the planets align, you gotta go now!

Movie Fanatic: Owen, what did you like most about your character? He's kind of a big deal in the birding world!

Owen Wilson: I would say he doesn't see any difference between himself and Mohammed Ali. He's a champion and I'm a champion. We're both equals. Then, Brad and Stu -- Jack and Steve's characters -- he sees those guys kind of beneath him. They're trying to get what he has.

Movie Fanatic: What do you think Kenny's motivation is? I mean, he doesn't need to go after this birding record, he already holds it.

Owen Wilson: I think what drives Kenny is holding on to his record. That record of 732 birds spotted over the course of a year, is as significant as Joe DiMaggio's 56 game hitting streak. It's something that he's going to kill himself to keep.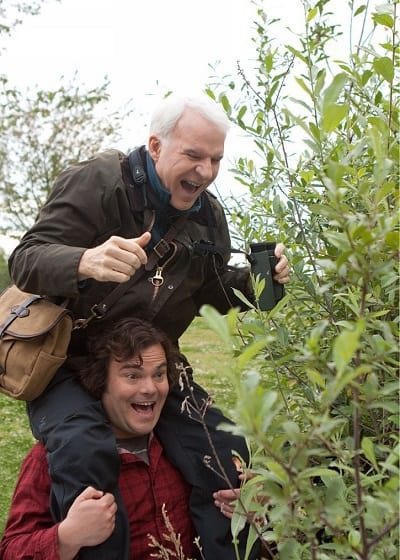 Movie Fanatic:
What was each of your own versions of
The Big Year
? Or what would be your version of
The Big Year
?
Owen Wilson:
I think it was when we got our first big break in Hollywood (with
Bottle Rocket
). They were able to get our script into the hands of someone who was willing to make a movie. That was probably my
Big Year
.
Steve Martin:
I would like to take a year and only answer emails from friends.
Jack Black:
I thought about taking a year off of acting, just to focus on my Scrabble -- to see if I measure up against the best in the world.