A Big Year is when a bird watcher criss-crosses the country attempting to witness more species of birds than any other birder during the time period of January 1 through December 31. The Big Year, the movie, covers that year with stars Steve Martin, Jack Black and Owen Wilson on the titular effort. Yet, The Big Year is about so much more than competitiveness amongst the appreciation of avian species.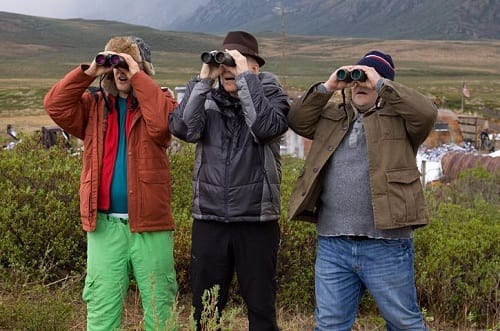 The Big Year
is a study in pursuing dreams, regardless of what the naysayers around emit. In the film, that theme is embodied by Black's Brad Harris, Martin's Stu Preissler and Wilson's Kenny Bostick.
Harris is stuck in a dead-end job and lives for his weekends when he can escape to the outdoors armed with nothing but binoculars. Preissler is a man who's had more than his share of success and yearns for something that challenges and feeds the fire of his soul. Wilson's Bostick is a successful contractor and current Big Year record holder with over 700 species of birds seen. He's on his second marriage, with his first destroyed by his passion for spending time with feathered friends as opposed to his wife.
What makes
The Big Year
special is how it is certainly funny, but also suspenseful in a classic race against time movie method of storytelling. As Wilson busts his move to expand on his record, upstarts Martin and Black combine forces and rapidly knock on his record's number. With a ticker popping up periodically on screen keeping track of our characters' progress throughout the film,
The Big Year
turns into a barn burner leaving the audiences wondering who will triumph by the closing credits.
The film is also a cautionary tale about sacrificing success at the expense of strong relationships with family and friends. It is in that realm that
The Big Year
allows the audience to frankly desire for more from comedies in general. The film is funny, but the humor is mature -- something of a rarity in today's films.
Director David Frankel (The Devil Wears Prada) not only has the blessing of a stellar trio of leads that can both deliver drama and comedy, but also a supporting cast in Anjelica Huston, Brian Dennehy, Rashida Jones, Rosamund Pike, Dianne Wiest and JoBeth Williams.

The Big Year is smart, sensitive and never loses its focus… which is the beauty of the birds. There is an appreciation for nature (also quite rare in films today) while simultaneously entertaining and enlightening audiences.