The Double, starring Richard Gere and Topher Grace, is a spy thriller that feels like it could be from the mind of John Le Carre. But, does it share his expansive universe of double agents, twists and turns? At times, yes, but mostly The Double is stuck in neutral.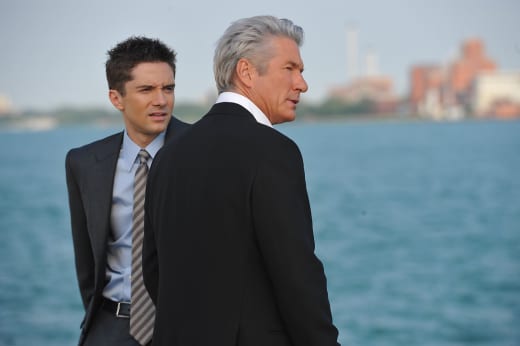 The story follows Gere as a retired CIA agent who spent the last 20 years of his career going after an international assassin who goes by the name of Cassius. When it appears Cassius has struck again -- a U.S. Senator is murdered on a Washington, D.C. street -- Gere is recruited by his old boss (Martin Sheen) and teamed with a neophyte FBI Agent who devoted his master's thesis to Gere's hunt of Cassius.
Directed by Michael Brandt, who co-wrote the film,
The Double
unfortunately reveals its first twist (and it's a doozy) very early in the movie. This twist is even in the trailer! Gere's character
is
Cassius. After that secret is let out of the bag, the movie begins its slow decent into a mediocre spy thriller that could have been bloody brilliant.
On a good note, the acting is solid. Gere is his usual sensational self and manages to portray a man who is clearly working both sides with power and panache. Grace proves he is all grown up as an actor with his
That '70s Show
days long gone. There are numerous scenes where he goes toe-to-toe with Gere and proves his acting mettle. In a small role, but a powerful turn nonetheless,
Stephen Moyer
plays a Russian spy sitting in a U.S. jail. He is almost unrecognizable, complete with scars on his face and an accent worthy of his character's rich country's heritage.
There is an out of left field twist in the end of the film that if it were believable, would rock. But by that point in the movie, the audience is more likely to not care than to be captured by the improbable "bet you didn't see that coming" element of The Double's storytelling.

We mentioned Le Carre in the opening of The Double review and that is because this film appears to be trying to capture the essence of the Cold War thrill master. With his Tinker, Tailor, Soldier, Spy coming to screens very soon, perhaps it's best to sit The Double out and double down on Le Carre's classic when it journeys to the screen in November.