The Ides of March Movie Review: Clooney & Company's Cinematic Coup
by Joel D Amos at . Comments
The Ides of March, based on the play Farragut North, is the fourth directorial effort for George Clooney. And like his most successful, Good Night and Good Luck, his role in the film is relatively minor as compared to the cast that shines around him.
In the play that The Ides of March is based on, the Clooney character -- a Northeast governor facing a crucial Ohio Democratic presidential primary -- is not seen. Oh, he is talked about by political operatives of both sides of the final two candidates in line to run for president.
Establishing the Governor Mike Morris character in The Ides of March as a living, breathing entity is far from an actor-director who inserted a character for the sake of screen time. Not only does Clooney control the behind the scenes action on The Ides of March, his character centers the morality tale for our time.
Yet, it is not Clooney's movie.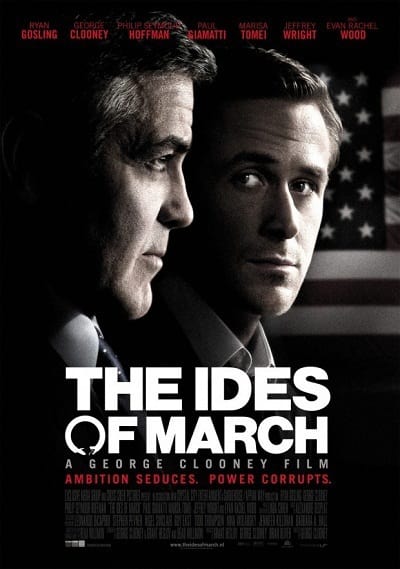 Ryan Gosling
commands almost every frame of the film. His political communication expert is the best at what he does. Gosling's Stephen Myers, even in this presidential primary's eleventh hour, is being courted by the other side -- specifically, Paul Giamatti's political consultant Tom Duffy.
A meeting between the two sets off a firestorm of political espionage where the audience keeps thinking they're at the end of that journey down a questionable moral road only to find it keeps adding to the mountain of everything is not what it seems.
Gosling provides the movie's balancing act. Every great political film treads water around the line of right and wrong and the reality of the political process. And as Robert Redford and Dustin Hoffman did with their collective acting prowess in All the President's Men, Gosling commands it in a single character.
Giamatti is in the film for barely 20 minutes, yet his impact weighs heavy on the entire story. Philip Seymour Hoffman, as Gosling's campaign boss, wields an acting power that is subtle and subversive. In director Clooney's wheelhouse, this is a cast primed for grand slams every time. Even Jeffrey Wright as a Democratic presidential candidate, who recently dropped out, is another bombshell waiting to happen in every scene he inhabits.
Marisa Tomei is a New York Times reporter, and although she sends shivers as Ida Horowicz, her character never gets fully fleshed out to add to the weight of the entity that is The ides of March.
Clooney (don't miss our George Clooney Ides of March interview) and writing partner Grant Heslove first planned on filming The Ides of March in 2008. Then, Barack Obama won the presidency and there was too much hope on the political landscape to make a movie with such cynicism towards the political process.
In no way a statement on the Obama presidency in 2011, The Ides of March's timing is perfect, as today, the headlines are permeated with like-minded scandals that breathe of fire, yet still are managed to be swept under carpets -- unfortunately while still disenfranchising many.
Clooney and company establish a world in The Ides of March that feels like a play that it was based on, and still does not feel like the audience is watching a play on film. With a cast of award-winning actors, a story that compels, and a scope that is truly beyond that of a single political dalliance, The Ides of March moves us to action.