The Lion King Blu-Ray is a work of art. It is astounding on many levels, but foremost: Who knew colors could be so vibrant?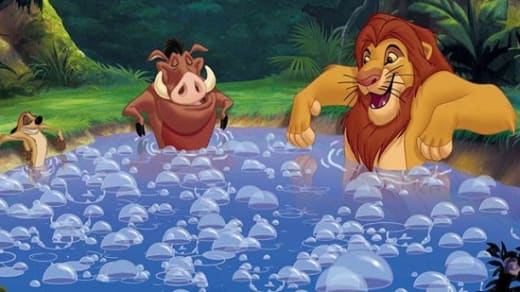 The Lion King
finally arrives on Blu-Ray for a limited run from the Disney vault. Movie Fanatic cannot stress enough how important this Blu-Ray is for any movie fanatic's home video collection.
The film famously landed in theaters for a
box office record breaking run
a few weeks ago in 3D utilizing the format better than most films out today. To witness the level of excellence on the Blu-Ray release only further shows why fans flocked to theaters to see a film they've witnessed a hundred times.
The Lion King
Blu-Ray already has us thinking it is one of the year's best home video releases. Not only for its crispness of sounds and visuals, but also the extensive extras that made it impossible to put down the Blu-Ray remote.
We received
The Lion King
in the Blu-Ray and DVD combo pack. The Blu-Ray features astound. There are four never released deleted scenes that for any fan will only add to the love they have for the film.
The Lion King
Blu-Ray even has a deleted song and given the fact that the film won Oscars for its music, the new track is a terrific treat. The home video release also includes rare insight from producer Don Hahn through his
The Lion King: A Memoir
. And Movie Fanatic adores when animated films come home on video and include a blooper reel -- simply, brilliant.
As is the case with most Disney flicks that have a great score, the Blu-Ray features the always fun Disney Sing Along Mode, which allows viewers to join in on the musical merriment of
The Lion King
. And again, considering the quality of the music, not to mention its place in the pop culture landscape, the Sing Along Mode has never felt so fine as it does on
The Lion King
.