Antonio Banderas is astounding in The Skin I Live In and the movie itself is one you will not soon be able to forget.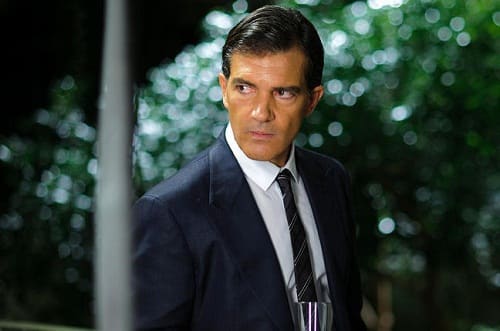 It's one of those films where the less you know about it, the more the cinematic experience will be rewarding. Because of that fact, Movie Fanatic will be revealing little in terms of the film's plot other than Banderas plays a surgeon whose specialty is skin. He is working on a synthetic skin that can withstand wounds and even fire. That's not even a background for the film, simply what his character does for a living!
The Skin I Live In
is from director Pedro Almodovar (
Tie Me Up! Tie Me Down!
) and his lens has never felt so creepy and we mean that in the most adoring of ways.
Almodovar has crafted a world that feels sterile and sensational all at the same time. This is the fifth time Almodovar has worked with Banderas and their stellar shorthand is on display throughout the entire film. Almodovar gets the most from all his actors, in particular in what should be a star making turn from Elena Anaya. Her role is complicated and multifaceted and she rules it with an iron fist. She is equally stunning and simmers with a solitude that rivets.
The Skin I Live In
is in one capacity a discussion about the lengths with which science goes to enhance our lives and the length of our life. But, it is also a story of revenge -- one that is deep-seated and years in the making. It is also a story of a dysfunctional family and how what damages you can drive you to become what you loathe as well as what you love. There are sibling rivalries, a death of a spouse that hovers over the entire picture relentlessly and above it all is Almodovar as a puppet master weaving his web as only a master can achieve. 
Rarely has a Spanish language film left us dreaming about what we had just witnessed for days following the screening. The Skin I Live In seeps into your subconscious and is one of those films that must be seen with a group. You will be dying to talk about what you have just seen. But when it hits you the hardest is when you are alone, in the moments before your eyes close and drift off to sleep. It is there that The Skin I Live In will ooze its power and leave you breathless trying to make sense of all the movie madness that is nothing short of brilliant.