The Thing prequel landed in theaters October 14 (check out our The Thing review) and star Kim Bubbs is thrilled to finally have audiences witness what it was that she and the entire Thing crew had worked so hard on for months. Above all else, Bubbs tells us exclusively, they were seeking to pay tribute to the John Carpenter directed classic, 1982's The Thing, and hopes fans see that love in every frame of film.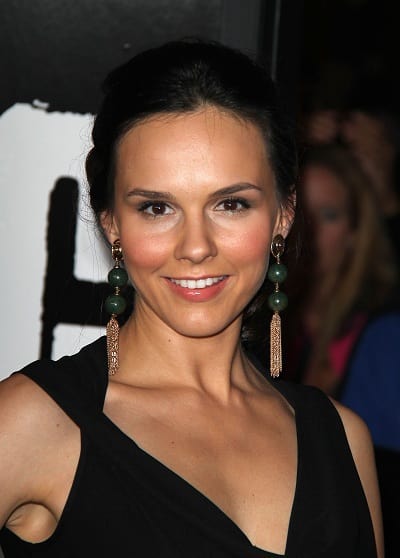 Bubbs also told Movie Fanatic about the Canadian shoot and how their Arctic freeze was really shot during one of the warmest winters in that country's history. Needless to say, the special effects weren't the only thing that were hot during
The Thing
shoot led by director
Matthijs van Heijningen Jr
.
Movie Fanatic:
When you read the script for
The Thing
, what was it that first popped off the page for you?
Kim Bubbs:
I liked the fact that there were two strong women in it [
laughs
]. I also thought it was brilliant to do the prequel because the Carpenter film lends itself so perfectly to a prequel. We want to know what happened at the Norwegian base, right?
Movie Fanatic:
Yes!
Kim Bubbs:
So, both of those things really struck me. That was what got me excited about the project.
Movie Fanatic:
Tell me a bit about your character. What about playing her did you most cherish?
Kim Bubbs:
Jillian is a French geologist. She's working with the Norwegian scientist on their base. She's a little reserved. She's a sweet woman. They're all going about their business, only having this overwhelming discovery that no one is prepared for -- all hell breaks loose after that. She finds a quiet courage within herself to help to try and overcome
The Thing
.
Movie Fanatic:
Once on set, what was that shoot like? I can imagine there was a little bit of CGI, but what was the biggest challenge?
Kim Bubbs:
I'll tell you what was really cool about it -- just being there honoring Carpenter's film! We did have a lot of puppetry in the film, so it was amazing to be able to work with actual physical things on set. We did have some green screen, but we had a lot of things that we were actually interacting with… 
Movie Fanatic:
That had to be amazing…
Kim Bubbs:
It was, but to answer your question about the most challenging [
laughs
]. What was so challenging was that it was so hot and we were wearing Arctic gear with ice packs on our backs so we wouldn't faint!
Movie Fanatic:
I wondered because it looks like you're freezing, and apparently you were not.
Kim Bubbs:
No, we weren't!
Movie Fanatic:
Working with that cast, quite an international group of stars, what did you take away from all that diversity personally and professionally?
Kim Bubbs:
It was amazing to see such different influences. We truly are an international cast. It was so refreshing to see everyone's experience, their way of approaching a project and working and how to work together -- that was the most incredible. It was a blast. The Norwegian guys were crazy in the best most possible way [
laughs
].
Movie Fanatic:
You put your heart and soul into something like this, the release date has arrived. Is it safe to say you're excited for people to actually see it?
Kim Bubbs:
I'm so excited for people to finally see it. A lot of die-hard fans are weary about the prequel aspect, but we really did the utmost to get it right. I really think we did get it right. This experience is about fans to share in that.
Movie Fanatic:
How did you find your inner geologist?
Kim Bubbs: I read a lot of books, specifically about geologists who have been to the Arctic. What were they looking at? Why were they there? Also, what it's like to live there. You're isolated. That was very interesting to me. And the film kind of reminds me of Encounters at the End of the World by Warner Herzog, the documentary about living in the Arctic.

Movie Fanatic: What's next for you?

Kim Bubbs: Well, I have On the Road, based on Jack Kerouac's biggest book. It's an amazing cast including Viggo Mortensen, Amy Adams, Kristen Stewart, Kirsten Dunst, and Steve Buscemi. That's a complete departure from The Thing and it was wonderful.

Movie Fanatic: And talk about a book that is long overdue for being made into a proper Hollywood movie, it's On the Road.

Kim Bubbs: Agreed. I totally agree.