The Thing scared up enough box office juice this past weekend to have producers thinking about a way to come up with another prequel to John Carpenter's The Thing or perhaps leap ahead to bring The Thing into the future.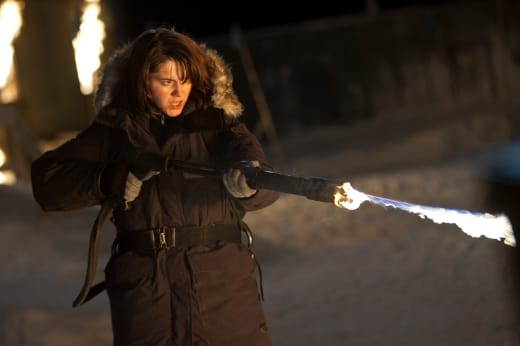 Mary Elizabeth Winstead
kills it as Kate Lloyd, a paleontologist sent to the Arctic to work with a group of Norwegian scientists who have made a once in a millennia discovery.
Don't miss our
The Thing
review
and check out more
The Thing quotes
!
Kate Lloyd:
Not all of us are human! |
permalink
Adam Goodman:
In the three years that I have known him, this is the most excited I have ever seen him. |
permalink
Kate Lloyd:
Either someone miraculously healed themselves... or someone is not who they say they are. |
permalink
Adam Goodman:
It's not possible. It's not dead. |
permalink
Kate Lloyd:
Did you hear that? |
permalink
Kate Lloyd:
This Thing attacks its prey, copies it perfectly and then hides inside it. |
permalink
Braxton Carter:
You might want to wrap it up in a couple of days. The last place you want to be is cooped up with a dozen Norwegian guys. |
permalink
Dr. Sander Halvorson:
Kate, this is not the time to be yelling fire. Let's stop, gather our thoughts and discuss this in private. |
permalink
Kate Lloyd:
Burn it! |
permalink
Kate Lloyd:
If it makes it out of here, millions of people die! |
permalink