The Thing Exclusive Interview: Director Matthijs van Heijningen Jr. Prequels John Carpenter's Classic
by Joel D Amos at . Comments
Director Matthijs van Heijningen Jr. had quite a lot going against him when it came to his first feature film. The Dutch filmmaker, who had previously only made commercials, was not only tackling his first major motion picture, but it was the prequel to the iconic John Carpenter classic, 1982's The Thing. Not too much of a daunting task, no? But, Heijningen handled it with grace and has produced a movie worthy of the Carpenter original and takes the story beyond what we know and fills in a lot of what we never knew when it comes to the world of The Thing.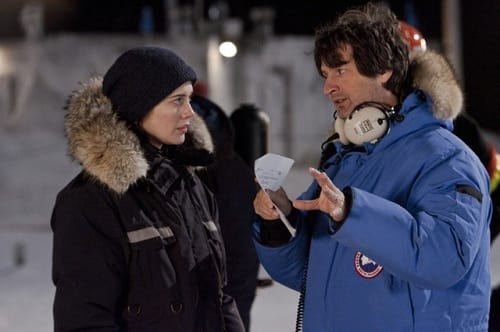 The director is sitting with Movie Fanatic for an exclusive interview about the process of bringing
The Thing
prequel to life, his casting of his lead --
Mary Elizabeth Winstead
-- as well as his feelings as the film is about to open to the world October 14.
Movie Fanatic:
How did a career in directing commercials influence your filmmaking style?
Matthijs van Heijningen Jr.:
Honestly, when you're making commercials, and I feel bad saying this, but you're not working with the best actors in the world. If they are the "B" class, on
The Thing
, I had an "A-plus" cast of superstars that made me look good. It was such a joy to work with such professionals day in and day out. Also, a commercial shoot is maybe two days long. For
The Thing
, we had 70 days. Although that seems like a lot, and it is, in some ways having to shoot something in two days was great training for getting things done efficiently. That was probably what I brought to
The Thing
more than anything from my work with commercials.
Movie Fanatic:
What did you see in Mary Elizabeth Winstead that made you want her to be your Kate?
Matthijs van Heijningen Jr.:
She's just incredible. I've loved her in so many of her movies and I just thought she would bring believability to the character of Kate. She's no superhero, but she has an inner strength that Mary brings to the forefront when it's called for in the story. She kind of reminds me of Sigourney Weaver as Ripley in the
Alien
movies. She doesn't ask to be the hero. She just takes the role because it's needed.
Movie Fanatic:
Well, she is perfectly cast…
Matthijs van Heijningen Jr.:
She comes across as a smart scientist and dedicated. She's very honest and believable. I think the movie needed somebody like her to see all the events through her eyes. And how, we as an audience, or she as a character, would respond to the situation. She sees all these clues that can only lead to one thing, that is almost unbelievable to process inside the human mind.
Movie Fanatic: Were you a fan of the John Carpenter directed The Thing?

Matthijs van Heijningen Jr.: Seriously, I must have watched that movie over 100 times [laughs]. There was so much that I felt we could add to The Thing story by going back to the beginning.

Movie Fanatic: I'd say you're a fan. Did you have any apprehensions about making a prequel to a masterpiece?

Matthijs van Heijningen Jr.: No, if anything, I thought that the story Carpenter crafted in The Thing in 1982 was ripe for a prequel. Like… how did The Thing come to cause such mayhem? I wanted to know the origins of the story and I felt that Carpenter's The Thing allowed us to do that in a way that kept the spirit of the original and played to fans' passion for the story.

Movie Fanatic: What did you impart to your actors to allow them to feel the monster inside them?

Matthijs van Heijningen Jr.: As an audience and as a character, you think you can outsmart something, But, if it's inside of you, that's the true horror, even if you don't already know you are a creature. You can think that you're normal, but still doubt that there isn't a creature inside you. It can even fool you. There's this thing inside you that could pop out at any moment. I think that's why The Thing as a story, is so terrifying.

Movie Fanatic: Did you seek to have The Thing have human-like traits?

Matthijs van Heijningen Jr.: I think people still expect to see a character in the monster. But, if you see remnants or remains of characters that you cared for, that's awesome [laughs].

Movie Fanatic: How would you describe the film to those who don't know the world of The Thing?

Matthijs van Heijningen Jr.: The movie is a great character piece about a group of people stranded at a camp. They think they have made the greatest discovery in the world, finding alien life. But, it turns all against them.

Movie Fanatic: The cast is so desperate to kill The Thing before it can wreak havoc on the world. How did you capture that desperation, while simultaneously invoking fear in each character's own mind?
Matthijs van Heijningen Jr.:
They know if they flee the camp, it would infect the whole world. They have to solve it amongst themselves. They have to kill this creature, here and now. Or, the whole world will be taken over.
Movie Fanatic:
So, how are you feeling as your film is about to hit theaters?
Matthijs van Heijningen Jr.:
Honestly, I think I'm in denial [
laughs
]. Seriously, that's how I feel. I'm really proud of the work and our cast and what's on screen. But, maybe I'm a little nervous about what people will think. I just want them to love it.