The Three Musketeers, as envisioned by director Paul W.S. Anderson, feels like a period piece drama meets Resident Evil action. Considering Anderson is the helmer for those Resident Evil films, that should hardly surprise. But it is the 19th century intrigue he paints that is the overriding pleasantry of his film.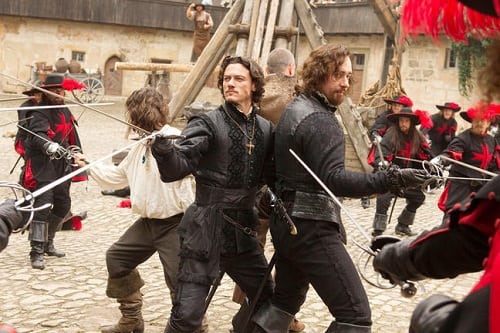 Anderson also effectively uses his real life wife Milla Jovovich as Milady de Winter, a character that is playing both sides. Teenage King Louis XIII has taken the throne and is being counseled by the nefarious Cardinal Richelieu (the always good at being bad Christoph Waltz). Across the English Chanel in the U.K. Orlando Bloom's Duke of Buckingham is trying to start a war with France with its weak and inexperienced King new to the crown. As an audience, you can never really tell who Jovovich is playing, and throughout it is even possible that she is entirely focused on herself and cares for no sides.
The actual
The Three Musketeers
(check out the
film's first five minutes
!) are expertly played. Matthew Macfadyen (
Robin Hood
) is the leader, Luke Evans (the upcoming
The Hobbit
) is the former man of religion who now fights evil with his sword and the hulking Ray Stevenson commands as Porthos.
Elements of Alexandre Dumas' original story are here including the arrival of the upstart wannabe Musketeer D'Artagnan (Logan Lerman, who only really comes into his own on screen in the third act). But Anderson takes his
Musketeer
story and brings a bit of Leonardo Da Vinci science to the story with the development of airborne warships. Over the top is a phrase that comes to mind with the introduction of pseudo technology into an already classic story. We welcome the use of such things, but in Anderson's
The Three Musketeers
, that aspect of the plot muddles the adventure.
The action sequences, as is expected from the
Resident Evil
mastermind, are mind-blazingly beautiful. When the titular trio, with Jovovich, break into a Venice building (that holds Da Vinci's sketches and the like), watching the actress run through a hallway of bullets flying, arrows piercing and explosives exploding, it is violence as ballet.
Unfortunately, The Three Musketeers gets buried by its own weight. The plot skids off the rails too often for its own good. We love Waltz, but he brings nothing new to this villain arsenal with his portrayal of Richelieu. And overall, when a story is made as often as The Three Musketeers, an audience member has to ask oneself: Was it worth revisiting that tale? Unfortunately in Anderson's Musketeers, that answer cannot be yes. But if you love well-choreographed action sequences and the historical splendor that is 17th century France, Italy and England as its backdrop, the film is just fine.