It is a bonanza of film bounty this weekend at the Cineplex. The star wattage alone should blind from Johnny Depp (The Rum Diary) and Antonio Banderas (Puss in Boots) to Justin Timberlake (In Time). There is also a film vying for Oscar attention (Anonymous) and a spy thriller (The Double) in the John Le Carre vein starring Richard Gere and Topher Grace.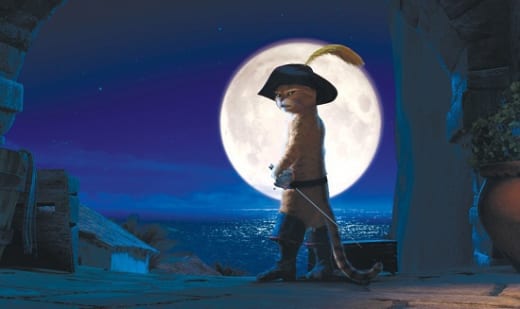 Puss in Boots:
Antonio Banderas brings his bad self back in animated form for
Puss in Boots
. The delightful film (check out our
Puss in Boots review
) is adventurous and uncannily smart in its introduction of new characters including Jack and Jill (Billy Bob Thornton and Amy Sedaris), Kitty Softpaws (Salma Hayek) and Humpty Dumpty (Zach Galifianakis). Puss' origins story takes audiences back to the beginning, including showing the kitty as a kitten (cue the ahhhs).
The Rum Diary: Johnny Depp is Hunter S. Thompson on screen once again, this time as a young man landing in Puerto Rico to take a job at a daily newspaper. Audiences are treated to Depp at his best (don't miss our The Rum Diary review) and a film that is solidly put together providing powerful messages, in depth performances from its cast (especially Giovanni Ribisi) and a look of the early 1960s that is exquisite.
In Time: Justin Timberlake turns into an action star in In Time. The latest film from Gattaca mastermind Andrew Niccol is a mind-bender that asks the question: What if money was replaced by time? The rich could live forever while the poor struggle to make it day-to-day. Amanda Seyfried co-stars in a sci-fi thriller that makes you value every second. Be sure to discover our In Time review.
Anonymous: Screenwriter John Orloff, after extensive research, presents Anonymous and its idea that William Shakespeare did not write all of his masterpieces. Rhys Ifans astounds as an Earl, who because of his social standing, it would be beneath him to compose plays and sonnets. So, he enlists an actor (Rafe Spall as William Shakespeare) to put his name on the Earl's work. Only problem is, the plays are astounding and Shakespeare becomes an Elizabethan sensation. Be sure to visit our Anonymous review.
The Double: Richard Gere and Topher Grace star in a spy thriller about a CIA agent (Gere) who has recently retired after spending his career tracking an international assassin. When a U.S. Senator turns up dead in the D.C. streets, he's pulled back into action with a rookie FBI agent (Grace) to catch the killer before he wreaks more havoc. Does The Double deliver? Check out our The Double review.