Zach Galifianakis Gives Puss in Boots Insight: Humpty Dumpty Delivers
by Joel D Amos at . Comments
In Puss in Boots, Zack Galifianakis' character Humpty Dumpty and Puss in Boots are best friends. And yet, there is this jealousy. How did Galifianakis perceive Humpty's motivation for doing so many bad things to his best friend?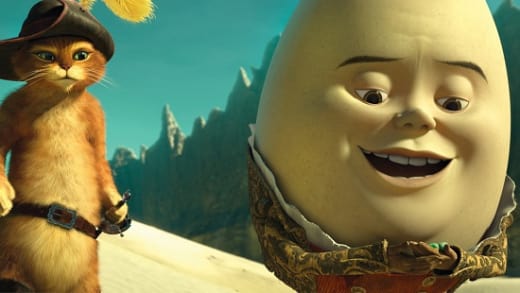 "The Humpty Dumpty character that I play, and I never thought I'd say that sentence in my life, and I finally have… thank you Jesus. I think Humpty Dumpty is a little all over the place," Galifianakis said.
"He's a little emotional. He's a little greedy. I think he's a little vindictive, but he is also trying to have a friendship ultimately. But, his greed gets the best of him. I think down deep in his yolk, that he is an OK guy."
Galifianakis had to tackle a character that was famous, yet no one really knows much about Humpty Dumpty. "I interviewed the real Humpty Dumpty," he said and smiled. "He is 90 years old and lives in Vermont."
Most of the characterization of Galifianakis' Humpty Dumpty came from
Puss in Boots
director Chris Miller. "Chris really gave me all the information I needed to know and the context that I needed to do the voice work. All I know are my own vague childhood memories of Humpty Dumpty, but also children throwing eggs at me... is not much about Humpty Dumpty," Galifianakis said as we laughed.
"But Chris filled it in and did do some specific direction that he saw for the grand scope of the movie. But, to be honest with you, I didn't really make that connection."
Lastly, Movie Fanatic wanted to know: If Zach could have a fairy tale or cartoon character on Between Two Ferns, his wildly hilarious talk show, who would it be and why?

"Jesus Christ," he said in a straight deadpan. And, thus he was gone.

Don't miss Galifianakis starring with Antonio Banderas and Salma Hayek, plus Billy Bob Thornton and Amy Sedaris in Puss in Boots, out everywhere in 3D October 28.