Creating Christmas movies can be a difficult and thankless task. Get it wrong and your film goes down in movie history with an air of "never to be seen again." Score and instantly the work can be thought of as a Christmas classic.
Arthur Christmas
lands firmly in the latter.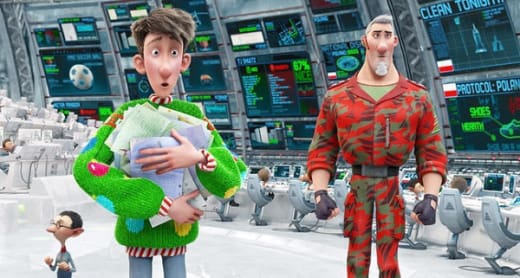 Arthur Christmas
, from Aardman Animation and Sony Pictures Animation, is a delight from the get-go. The filmmakers behind this stellar flick have their Christmas movie firing on all cylinders.
The movie answers the question: How does Santa deliver billions of presents in one magical evening?
In
Arthur Christmas
, it is established that Santa Claus is much like a royal family. We meet all the former Santas through portraits of all the icons going back to the dawn of time. Each serves for decades before passing the mantle on to the first-born son. As
Arthur Christmas
begins, Santa (Jim Broadbent) is rumored to be retiring and his son Steve (
Hugh Laurie
) is more than ready and able to take on the title for next Christmas.
Steve has set up a military-type operation that is efficient and technologically wired to the "T." He has more than established his ability to be the next Santa, commanding an army of elves that work much like Tom Cruise's team from the
Mission Impossible
films.
The crux of the
Arthur Christmas
story comes as another successful evening of present delivery is completed, and Steve's little brother Arthur (James McAvoy) discovers one toy has not been delivered. The film's next 80 minutes set in motion not only a story, but characters we look forward to visiting each holiday season for decades to come.
Arthur Christmas'
cast is stellar. McAvoy delivers a subtle performance as Arthur that is equally charming and charismatic, while still buffoonish to provide the film with its many laughs. Also amazing is
Bill Nighy
as Grand Santa, current Santa's father and the zany patriarch of this North Pole-based clan. Hearing his characterization of Grand Santa is a lesson in voice acting taught by a master. And don't get Movie Fanatic started on the eager beaver characterization of the gift wrapping elf maestro played by Ashley Jensen.
Director Sarah Smith's first foray into animation not only produces a visual marvel, a nearly perfect motion picture, but a holiday film model that sets the standard for how to tackle the Christmas movie genre with originality and wit while still touching the soul.

Would you believe that a Christmas film could deliver action, suspense, humor and heart all within one movie? Arthur Christmas achieves that goal and in the process produces one of the more memorable films of the year. When it comes to holiday surprises, Smith's movie delivers in droves. We cannot wait for the sequel.