Arthur Christmas stormed into theaters last week and the animation team that produced Wallace and Gromit has achieved another animated gem. The unique take on the Santa Claus legend features heartwarming scenes, comic moments galore, action and suspense. Oh, and yes, plenty of wonderful quotes to keep you warm this holiday season.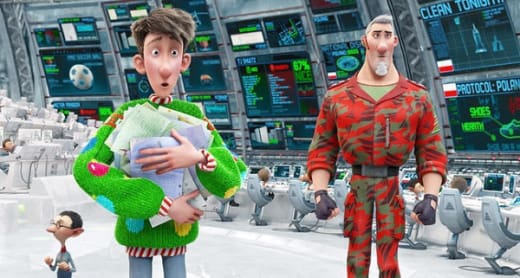 Santa Claus sets out on an impeccably designed military-type mission each Christmas Eve and delivers billions of presents in one evening. In
Arthur Christmas
, Steve Claus heads the operation from the North Pole while his father journeys the Earth delivering good tidings to children everywhere. Arthur is Steve's younger brother and in the film represents the unclouded joy that is reflected in every child's dream of the perfect Christmas. Also along for the
Arthur Christmas
ride is Grand Santa, Santa's father, and Bryony -- the most enthusiastic gift wrapper in all of the North Pole.
Sit back, pour a glass of eggnog and enjoy our
Arthur Christmas quotes
.
Steve Claus:
Operation Santa Claus is coming to town! |
permalink
Elf at North Pole Command Center:
Waker! We have a waker! And Santa's in there! |
permalink
Arthur:
[
Yelling
] A child's been missed! |
permalink
Arthur:
I just want it to be perfect for every kid! |
permalink
Arthur:
There's no time for a bow!
Bryony:
There's always time for a bow! |
permalink
Grand Santa:
What happened to going down the chimney? |
permalink
Bryony:
No one gets an unwrapped present on my watch! |
permalink
Grand Santa:
Arthur, there is a way.
Arthur:
It's impossible.
Grand Santa:
They used to say it was impossible to teach women to read. |
permalink