Beetlejuice
fans: Ever wonder what the Michael Keaton alter ego has been up to after 26 years? Plans are in the works with the production team of Seth Grahame-Smith and David Katzenberg to resurrect
Beetlejuice
for a sequel. They promise they will not film a frame without not only the blessing, but the participation of Keaton.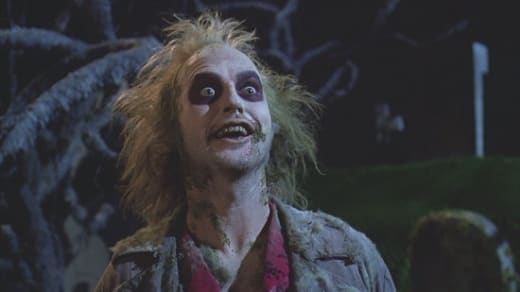 "When Warner Bros. came to us about it, we said the only way we'd do it is if we got Tim (Burton's) blessing and involvement, and we got that. The star of the movie has to be Michael Keaton as
Beetlejuice
, and it's a true continuation 26 years later," Grahame-Smith told
Entertainment Weekly
. "Not just throwing him in a cameo going, 'Hey it's me. I endorse this movie.'"
Individually, Grahame-Smith is the author of
Pride and Prejudice and Zombies
and
Abraham Lincoln: Vampire Hunter
(don't miss our
exclusive chat with Anthony Mackie on the filming of Abraham Lincoln: Vampire Hunter
). Katzenberg is the son of legendary film exec Jeffrey Katzenberg, but has successfully struck out on his own with reality programming and MTV's
Awkward
and
The Hard Times of RJ Berger
.
Katzenberg and Grahame-Smith just signed a production deal at Warner Bros. and among the projects they are infusing life into is the
Beetlejuice
sequel. But, Grahame-Smith cautioned quickly, "We're not there yet (with Keaton) because we don't have a film to present to him."
What do you think about a
Beetlejuice
sequel? Call Movie Fanatic crazy, but we'd love to see it.