The arrival of the first part of Breaking Dawn signals to Twilight fans that it is the end of an era. The two-part conclusion to the saga has been causing frantic buzz since director Bill Condon began filming in Brazil.
But does Breaking Dawn deliver for its legions of Twi-hards?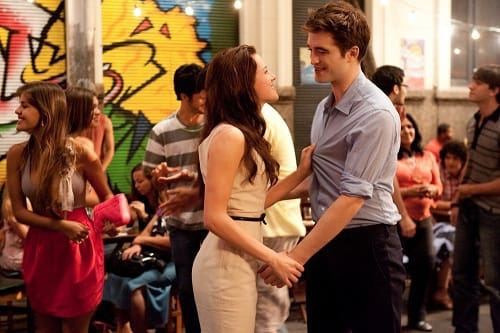 For starters Condon was a great choice by producers to close out the
Stephenie Meyer
-penned series. He crafts a film that is evenhanded and should more than satisfy the rabid fan base. As a film on its own,
Breaking Dawn
may not be everyone's cup of tea.
But in the end, the Twilight series has always been all about pleasing the franchise's fans. In that manner, Breaking Dawn does deliver.
The crux of the story follows Edward (Robert Pattinson) and Bella (Kristen Stewart) as they marry and head off on their honeymoon. The wedding scene is a beauty to behold. Fans will be all sorts of atwitter as Bella finally marries her vampire.
As for Jacob, Taylor Lautner excels in capturing a man. Yes, he appears more than mature physically and emotionally, living at a crossroads. His love of Bella is unrequited, yet he still proves he's prepared to die for her. It is a selfless act that provides the groundwork for a bulk of the action in Breaking Dawn.
The film has far less action than previous Twilight movies. For non Twi-hards, that could be a big drawback. Breaking Dawn is at its heart a romance and the complications that can accompany it.
In order to honestly review Breaking Dawn, our rating needs to be split in two. One grade evaluates how the film plays for fanatics and the other is how the film would be seen by moviegoers who may not call themselves anything near the Twi-hard moniker.

Twilight fans... time to celebrate. Breaking Dawn is a four out of five star cinema experience. You see, there are three questions when it comes to a Twilight movie for fans. Was it faithful to the book? Does the movie fall in line with the series as a whole? Will (insert film here) further enhance my passion for Meyer's vision? In the case of Breaking Dawn, so far… Part 1 gives us a yes, yes and yes.
Everyone else will find the flick over-dramatic and perhaps a little disjointed. Yet, in the scope of The Twilight Saga, impassioned drama and a short attention span interweave to cast a spell over its audience that is impenetrable.