Breaking Dawn, the penultimate story in Stephenie Meyer's Twilight series, is making money hand over fist globally. The Robert Pattinson, Kristen Stewart and Taylor Lautner starring flick has just gone over $500 million in international box office, in only 12 days.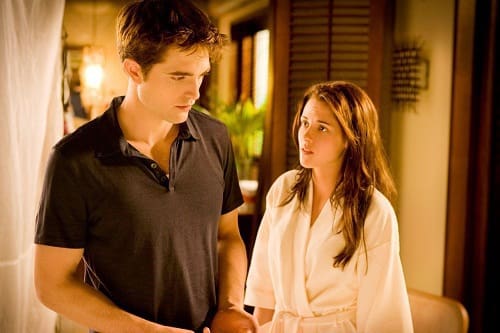 Thus far,
Breaking Dawn
has earned $223.4 million in the U.S. alone and $285 million internationally, bringing its total box office earnings to $508.4 million in less than two weeks!
Fans have been split over their feelings on the film (don't miss our
Breaking Dawn
review
), but that is not keeping the studio behind the franchise, Summit Entertainment, from celebrating the blockbuster.
"We couldn't be more pleased with the success of this film and a franchise that the fans have continued to support over the past several years," said Summit co-chairmen Rob Friedman and Patrick Wachsberger. "Thank you to all involved with the films from the actors, filmmakers and Stephenie Meyer to the most important group of all, the global fan base that continues to drive a desire for more Edward, Jacob and Bella."