Breaking Dawn Takes the Turkey: Twilight Final Chapter Wins Box Office
by Joel D Amos at . Comments
Breaking Dawn took the box office title for the second week in a row, beating back stiff competition from a slew of new movies including The Muppets.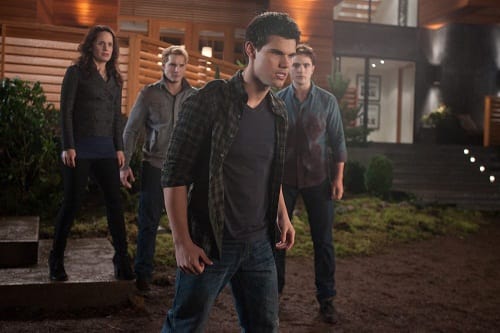 The first part of the final chapter in the Stephenie Meyer
Twilight
series earned another $42 million. Specifically, for the entire Thanksgiving weekend,
Breaking Dawn
sold $62.3 million in tickets from Wednesday to Sunday.
In second place arrived the Jason Segel and Nick Stoller-written return of
The Muppets
. Opening with $29.5 million at the box office is not a bad take, considering the juggernaut they were fighting in
Breaking Dawn
.
The box office second place finisher from last week,
Happy Feet 2
, dropped to third place with $13.4 million with this week's new animated flick,
Arthur Christmas
, close behind in fourth with $12.7 million.
Landing in fifth place is the Martin Scorsese-directed marvel that is
Hugo
. The film opened on over 2,000 screens, and only made $12.7 million. In the coming weeks as the holidays arrive, look for the numbers to increase for
Hugo
. The movie is an incredible piece of work (check out our
Hugo review
) and as word of mouth spreads for the film and families head into the movie house,
Hugo
should inch its way closer to be a blockbuster.
1.
Breaking Dawn
, $42 million
2.
The Muppets
, $29.5 million
3.
Happy Feet Two
, $13.4 million
4.
Arthur Christmas
, $12.7 million
5.
Hugo
, $11.4 million
6.
Jack and Jill
, $10.3 million
7.
Immortals
, $8.8 million
8.
Puss in Boots
, $7.5 million
9.
Tower Heist
, $7.3 million
10.
The Descendants
, $7.2 million