Exclusive: Friday Night Lights' Zach Gilford Reveals The River Why's Theme
by Joel D Amos at . Comments
Zach Gilford finished filming Friday Night Lights and was eager to tackle a subject close to his heart. The River Why accomplished that on many levels and he tells Movie Fanatic about it exclusively. The film is currently available on DVD and Blu-Ray and its outdoor-centered storyline spoke to Gilford.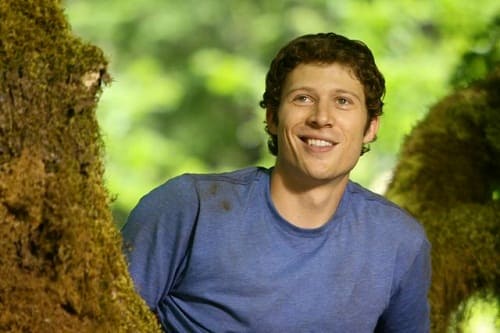 The River Why
also stars Amber Heard and
William Hurt
-- another huge draw for Gilford -- and the shoot was primarily outdoors, something Gilford tells us he would normally be doing quite a bit anyway.
The film explores a father-son relationship with the backdrop of fly fishing and the beauty of the American West.
Movie Fanatic:
What was it about the actual story of
The River Why
that really resonated with you?
Zach Gilford:
The story was great because I used to lead outdoor trips for kids, for high school kids. I've worked anywhere from Costa Rica to Alaska to New Zealand and my favorite memories are the moments when kids stopped mid-tracks, looked around, and went, "Oh my God, look at where I am." And that's kind of the transition that Gus goes through in this movie. At the start, fishing's just a fun sport, the thing that he does. And he finally starts to realize there's a much bigger picture and starts to respect it a little more. It's life and a living thing as opposed to this kind of sport where you can just grab these things out of the water. He starts to realize they're living things and respect them much more and appreciate them much more. That leads to him having an "aha moment" with his life, with his family, being more open to them and seeing them in a different light than he had all through growing up.
Movie Fanatic:
What is it about fly fishing that it develops such devotion in people?
Zach Gilford:
My take on it and I don't know if everyone agrees or not. But I think there's something very Zen about it in that just with your cast or whatever you're doing, you have to be focused. You can't be spacing out about whatever else is going on with your life. But it's not the kind of focus that can stress you out and give you a headache. It's not like doing math or trying to solve some kind of problem or working on a budget. It requires enough focus that you have to be present and concentrate on what you're doing but it's not stressful, which allows you this meditative state of mind where you're not stressing out about anything else. You're just present where you are when you're there. On top of all that, generally, you're in very beautiful, serene places.
Movie Fanatic:
How was it working with your co-star
Amber Heard
?
Zach Gilford:
We definitely forged a really good friendship as well. She was great; I loved her. It was fun working with her. We got pretty close and we were really comfortable with each other. There are some goofy scenes where I'm in a tree spouting off some weird dialogue, where you're going to feel pretty stupid doing it. But because of the relationship that we had developed, I felt a little more like, "All right, she's going to go with me on this. I don't feel judged or like a complete idiot."
Movie Fanatic:
Since you love the outdoors so much, how was it being outside all the time while filming
The River Why
?
Zach Gilford:
It was amazing. I think we shot it in June or maybe July in Portland and it was just beautiful. It was hot a couple of days but generally it was perfect weather. We're out on these rivers and we're just running around in the forest. I've spent a lot of time outdoors and I feel really comfortable out there. We'd be moving locations and they'd see a beautiful downed tree in the forest and they'd be like, "Hey, can you just grab your bag and fishing rod and walk up this tree?" And I'd be like, "Yeah, sure." And they'd just shoot it because I never had to be like, "Oh, let me go check it out first and make sure it's okay." They gradually got to know that I could do any of that stuff. By the end of it, if you've seen the movie, I'm running through rivers and all that and it's not like I had a stunt double. I just feel really comfortable out there so it was really fun to get to do that kind of stuff and have someone there with a camera.
Movie Fanatic: How was it working with director Matt Leutwyler?

Zach Gilford: Throughout the movie, Matt and I had a great working relationship. This was the first movie I ever did where I was in every scene of the movie and I was there every day. The director is the person you're working with all the time and we had such a good relationship that it was a really fun, great experience. It all worked out really, really well.

Movie Fanatic: How did you prepare for all the fly fishing in the film?

Zach Gilford: Before we shot, we went for like a week to learn how to fly fish. So I got to spend some time with Will Hurt, and obviously Matt and Kristi (Denton Cohen, producer), Kathleen Quinlan, out on rivers fly fishing. I really got to know them before we were just thrown on a film set and told to be a family.

Movie Fanatic: When you're fly fishing with William Hurt, what goes through your mind?

Zach Gilford: It's pretty nuts. And I still have that experience to this day. Right now I'm shooting something (The Last Stand) with Arnold Schwarzenegger. You're in a scene and he looks at you in a certain way, and you're like, "Oh my God, I saw that look in Terminator or whatever." And it's like, "They're just a normal person." When you're sitting in chairs talking to them during filming or when you're fly fishing, I'm still pretty young, I've been very fortunate in my career but still every experience I have, every celebrity that I meet, it's still pretty exciting to me.