Exclusive Giveaway: Prove You're a Movie Fanatic and Win an Immortals Prize Pack!
by Joel D Amos at . Comments
Think you're the biggest Immortals fan? Then answer the following Movie Fanatic trivia questions below for your opportunity to take home our impressive prize pack provided by the producers of The Immortals!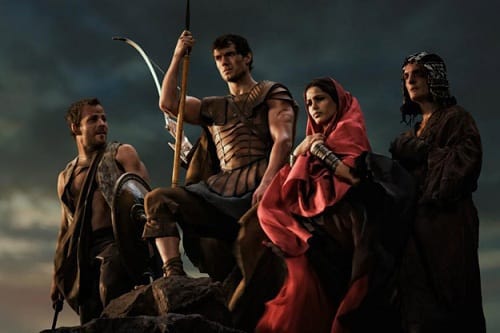 The Immortals
won the weekend at the box office
, and if you're one of those who helped the film reach its $30-plus million opening, the following questions should come easy.
First of all, let's tease you with what is in The Immortals prize pack:

Immortals 'Gods and Heroes' Graphic Novel

Immortals Branded Temporary Tattoo Scars

Immortals Branded T-Shirt

Immortals Branded Water Bottle

Immortals Branded Bracelet

Immortals Branded Foam Helmet

Immortals Branded Beanie

Immortals Branded Tank Top

Immortals Poster (not pictured)
3D Rogue Glasses (not pictured)

Immortals Soundtrack (not pictured)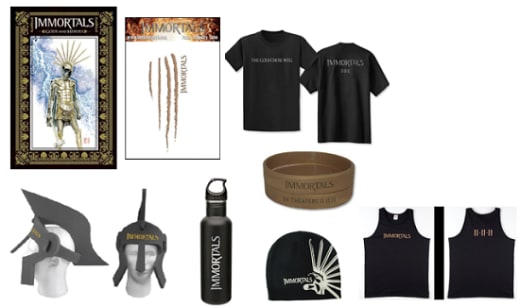 Now that you are sufficiently psyched for the prize, let's see how well you know The Immortals world!
The contest works like this:
Answer the 10 questions below by registering at MovieFanatic.com or using Facebook Connect and providing us your answers via Private Message. We will choose a winner who gets the most questions right.
The winner will be announced Tuesday, November 22. If more than one entrant goes 10/10, we will select among those entries at random. That's it! Good luck!

Questions:
The Immortals is director Tarsem Singh's third film. What are his first two?
Which god is the first to come down to Earth, against Zeus' will, to help battle back Mickey Rourke's forces?
Where was The Immortals shot?
Mickey Rourke famously severely hurt his arm before filming started. How? Hint: Movie Fanatic's Mickey Rourke interview from last week may hold the answer.
Who plays Zeus in the film in human form on Earth?
What period of art history inspires filmmaker Tarsem Singh?
In what form does Athena first appear on Earth?
What do we learn Stephen Dorff's character Starvos was before he connects with Henry Cavill's Theseus?
What is it that audiences are left with as a final image from The Immortals?
Lastly, and this one's easy: What film is Immortals star Henry Cavill currently filming?