The Happy Feet gang is back and the leader of the acting bunch is Robin Williams. Williams plays Ramon in the sequel (check out the Happy Feet 2 final trailer) and sat down with Movie Fanatic to discuss finding his inner penguin again, working with Sofia Vergara as well as how he feels about turning sixty.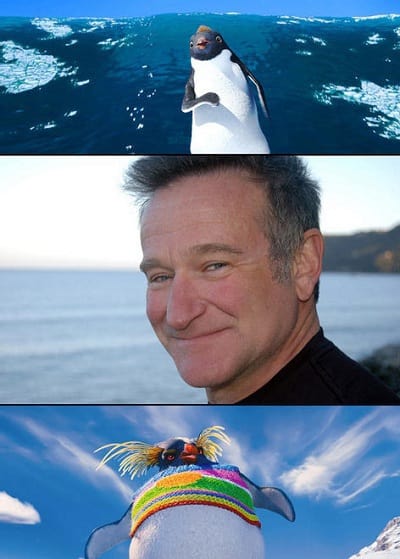 Williams returned to the
Happy Feet
world helmed by George Miller. The director provided the rarest of opportunities for an animated film -- the actors recorded their lines together. Normally it is an actor solo in the booth. Williams appreciated the camaraderie, particularly with a certain
Modern Family
star.
Movie Fanatic:
You have immense voice-acting experience with animation. How does working on
Happy Feet 2
compare with your other films?
Robin Williams:
We got to work together in the same room! I forgot that when I did other animated films, I was alone most of the time. With
Aladdin
, it didn't matter because I was creating forty different voices. But with this, it was so great to have everybody in the room together. You build a rhythm. The wonderful thing about all of it was that George Miller was watching it.
Movie Fanatic:
Sounds like a more physical experience?
Robin Williams:
You'd sweat through stuff [
laughs
]. At the end of the day, I'd go, "I'm just doing a voice, but I've sweated through a shirt." But, because of the activity and moving off each other, you just build a rhythm. You do end up moving around because you do get excited, working together. It's like an old radio play. We would always break away and start to work together. That was because of George Miller.
Movie Fanatic:
Ramon finally gets the girl! Tell us about the Ramon and Carmen love story in
Happy Feet 2
? Is love the most important thing in the world?
Robin Williams:
It's pretty close to it. It's cheaper than Prozac [
laughs
]. Ramon is a hopeless romantic, in that way. He's this little guy who wants love in the worst way, which is usually in person. He even takes rejection as acceptance. He's like, "Fat chance? I've got a chance! And it's fat!" He's more than smitten with Carmen, he's bitten, and it's off and running. With this, at least he does get the girl. He takes a leap of faith, literally. His love story is quite lovely because, most of the time, he doesn't get the girl.
Movie Fanatic:
How did you find the voice for Roman and Lovelace in
Happy Feet
? Was that more of a challenge than in the past for you?
Robin Williams:
For Ramon, George said, "Make him an Argentinean football player." Recently, I had a Hispanic woman come up to me and say, "You know, your accent is very Cuban." I wanted to make him small, but fierce, much like myself. And then, with Lovelace, I combined a little bit of Foghorn Leghorn and Barry White. Plus, when I grew up in Detroit, there were all these Baptist ministers that you would hear on the radio, or sometimes on TV. I gave him that kind of power. It was easy to separate the two characters.
Movie Fanatic:
Happy belated birthday. What does it feel like to be 60?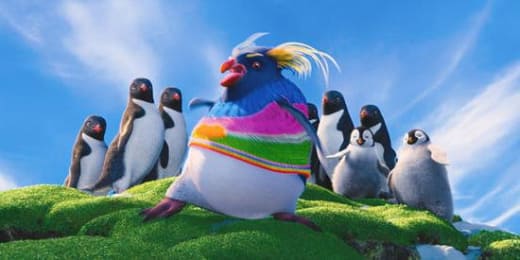 Robin Williams: I had a mid-life crisis at forty, so this is pretty sweet. Sixty is wonderful. Sixty is pretty amazing. I'm like, "I'm alive!" [Laughs] It's great. Once I had the heart surgery, it's me 2.0. And, I have a cow valve, which means I can shit standing up now. It's pretty sweet. And, I'm just off my honeymoon, which at sixty was wonderful. I actually remember it. And, a honeymoon in Paris doesn't suck either.

Movie Fanatic: Was it a thrill to work with Sofia Vergara, as Carmen -- your character's love interest?

Robin Williams: Yeah, that doesn't suck. I was like, "Yeah!" It was actually 3D, in the room.
[We both laugh]
Movie Fanatic: When your kids were little, was it too easy for you to become all these different characters, simply for their enjoyment?

Robin Williams: You know, I once was reading a story to my daughter, Zelda, when she was three. I was reading the story in different voices and, all of a sudden, she went, "Don't do the voices. Just read the story." I was like, "Oh, okay, great. Thank you, Missy."