Harold and Kumar 3D Christmas Exclusive: Tom Lennon's A Laugh Riot
by Joel D Amos at . Comments
When we enter the Beverly Wilshire suite where A Very Harold and Kumar 3D Christmas star Tom Lennon is awaiting Movie Fanatic, he is brandishing a hand-sized water sprayer pointed right at me. With comics as talented as Lennon who handle deadpan like Michael Jordan worked a basketball, you never know -- is he serious about spraying me with it? Is this a joke? Could it be both?
Lennon stars in
A Very Harold and Kumar 3D Christmas
as the new best friend of Harold (John Cho), who is estranged from his former best friend Kumar (Kal Penn) for several years.
Tom Lennon is widely known from his days on
The State
and
Reno: 911
, but what is not known too much about the man is he is a prolific screenwriter (
Night at the Museum
and its sequel, Vin Diesel's
The Pacifier
,
Balls of Fury
).
Lennon talks exclusively about all of the above and his outlandish Neil Patrick Harris envy.
Tom Lennon:
If there are questions I don't like, I will spray you like a cat.
Movie Fanatic:
[
Laughs
] Well, alright. Guess I better bring it.
Tom Lennon:
You're OK for now. I'm just saying… you'll know when it turns bad.
Movie Fanatic:
[
Laughs
] Perfect. How was your dive into the pool that is Harold and Kumar?
Tom Lennon:
It was interesting. I was a peripheral fan of the first two. I'm not the biggest pot smoker, so that is kind of a weird thing to be stone cold sober, or have one glass of red wine watching these movies. It's a slightly different experience. That said, the guys themselves, John and Kal, are super funny people. My friendship with them that's come out of this film is one of my favorite things that has come out of it. And, it's always nice to be in a film that you really like. I'll be honest. I was surprised how much I liked this movie. I didn't think I was going to love it. I was just going to see how it is, and you know what: I thought it was great. It's remarkably upbeat for a positively filthy, almost NC-17 3D Christmas movie.
Movie Fanatic:
You spend most of your time in the film with John. How did you find him as an acting partner? 
Tom Lennon:
He's terribly sharp and an incredibly funny person. He's great at improvising. John and Kal are much more serious actors than I am. I'm just a comedian. They're like real. They treat scenes like we're shooting
Dog Day Afternoon
. They are really into it. I'm just like, "How does my hair look?" They're super fast on their feet, brilliantly funny people. They're fun just to do bits with when you're not even filming, just to have strange, weird conversations with.
Movie Fanatic:
Obviously, you have quite the improv background. Were you able to let that out, or was it mostly on the page?
Tom Lennon:
It's like 90 percent on the page. I thought the script was really super funny. There's more nuances of improvisation in the film without being real huge improv. I'm used to working on
Reno: 911
, we'd improvise for almost a half hour without any agenda and no script or plan. To me, this is a very structured, scripted movie. For me, it's nuances of character stuff -- just how lame Todd is in the film, when he's like, "I'll Skype you later." Stuff like that.
Movie Fanatic:
In a way in
A Very Harold and Kumar 3D Christmas
, you're a straight man who delivers lines that get us to laugh. How was that for you as a balance?
Tom Lennon:
That to me, my take on comedy scenes is always try to be as serious as possible. That's basically what I'm playing with Lieutenant Dangle, I'm always trying to be serious and cool. I'm just failing at both all of the time, which is what makes it fun for everyone.
Movie Fanatic: When you were coming up, who were your comedic idols that you looked up to?

Tom Lennon: There are a couple of big ones. Certainly Steve Martin influenced every aspect of my adult life -- both his stand-up and his films. Probably no one had a more significant impact. The other ones would be Monty Python. When I was in Chicago growing up, on Sunday nights on PBS, they would show Benny Hill, Monty Python and Dave Allen at Large. So, Sunday night was a block of funny British things, which was right during my formative years. Then the album The Best of Bob Newhart, which I almost wore out, the actual record. Many of the bits from The Best of Bob Newhart I still have memorized.

Movie Fanatic: He has such a dry delivery…

Tom Lennon: If there's anyone that I modeled myself after, it's Bob Newhart.

Movie Fanatic: When did you know that one, you wanted to go into show business, and two, that you were good at making people laugh?

Tom Lennon: I don't know when I knew I was funny. I always set out to be a dramatic actor. But, I think I realized I wanted to be an actor… there are two things. I was recruited by the track and field coach to be a pole vaulter. I was short, but strong. He said, "You're the perfect guy to get up over that." That was one way I was going to go. But instead, I was dating this girl and she wanted me to audition for You Can't Take It With You. I ended up getting cast. Then, I realized, why would I want to go pole vault in a weird leotard, when I could be rehearsing plays all afternoon with all these beautiful girls? It just felt like a more fun way to spend the two to three hours after school every day as opposed to being strapped into a jock strap [laughs]. I was way better at falling down the stairs making people laugh with funny accents.

Movie Fanatic: I wanted to ask about your writing. Is that something that you have always been doing?

Tom Lennon: I never wrote, ever, until I joined The State -- at the end of 1988 or 1989. The reason was that if you didn't write material, you'd never be in anything. It was basically by necessity that I started writing to survive in that group. Then I found it was something I liked a lot. With me and Ben Grant (his writing partner) it is almost like a compulsion we write so much. We just feel the urge to write every day, or I just get depressed. It was really very accidentally. It was just a way to act more, and it has always been that way, right up until today. If you're just an actor, you're at a disadvantage. If you can also write, you can always be creating stuff that you can do. I found that if you're not creating your own stuff, most of your career with be downtime [laughs]. Opportunities aren't coming that you didn't make up.

Movie Fanatic: Writing is usually a solitary act.

Tom Lennon: It is…

Movie Fanatic: But you have a partner…

Tom Lennon: Yeah, but we never write together in the same room.

Movie Fanatic: Oh, wow.

Tom Lennon: We brainstorm together. We write outlines together. But, when we're writing a script, we're never in the same room, much less on the same computer. It ruins friendships and writing partnerships. Because, you nailed it, writing is solitary. When we are together, it is usually at a bar -- the Village Idiot on Melrose where we just sit and talk through ideas. See, what happens is there's that part of your brain that thinks that what you're writing is not very good. And now you have two of that. You'll get nothing done.

Movie Fanatic: Your next writing project is something with Vin Diesel again?

Tom Lennon: Vin's attached and MGM's making a thing called The Machine. Basically, it's like the Peter Sellers movie Being There with a Terminator robot from the 1980s who has never been outside. And we're writing something for Ben Stiller called Rent a Ghost, which is based on the old British series.

Movie Fanatic: When you're writing for someone like Ben Stiller, is the process different?

Tom Lennon: Yeah, there's a chance it will be a big, big hit [laughs]. We would love Ben to appear in every movie we write.

Movie Fanatic: Who knows what becomes of your character after A Very Harold and Kumar 3D Christmas, would you come back for a fourth?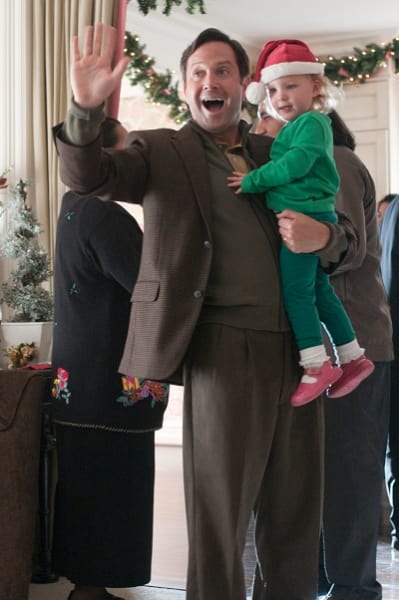 Tom Lennon:
Absolutely. I just want more Neil Patrick Harris stuff to happen. He has such a good time in this movie. He's amazing.
Movie Fanatic:
But, you got to work with the baby.
Tom Lennon:
That was amazing [
laughs
]. Those were the worst two-and-a-half months of my life.
Movie Fanatic:
The baby is portrayed by two-and-a-half-year-old triplets, is that right?
Tom Lennon:
Yeah.
Movie Fanatic:
Has no one ever heard of the terrible twos?
Tom Lennon:
The director felt, "It's cute. She looks really young," but she's actually two-and-a-half years old. Go back and tell me what part of this is (expletive) great. Obviously you have never met a child of that age. You have no idea what you're talking about.
Movie Fanatic:
Most of your scenes, she's tied to you in some way. And you filmed in summer?
Tom Lennon:
We filmed in July and August in Detroit wearing wacky Christmas sweaters walking around holding a two-year-old [
laughs
]. That was the worst.
Movie Fanatic:
What was the best then?
Tom Lennon:
The best parts of the movie undoubtedly are what happens to Neil. I had nothing to do with the best parts of the movie. I'm the nightmare part of the movie. All of Neil's stuff is all good times!