Harold and Kumar Exclusive: Todd Strauss-Schulson, Director Who Delivers
by Joel D Amos at . Comments
A Very Harold and Kumar 3D Christmas arrives in theaters today and its director, first-time helmer Todd Strauss-Schulson, is sitting down with Movie Fanatic for an exclusive interview.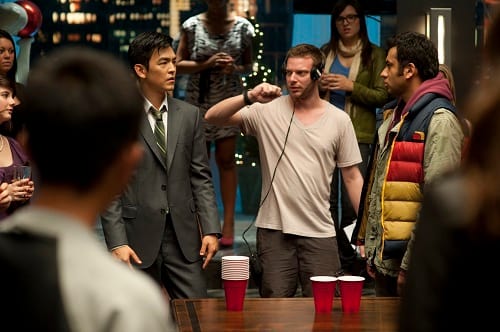 After shooting literally thousands of short films, Strauss-Schulson was ready for his big Hollywood movie close-up. He tells Movie Fanatic he felt prepared for the spectacle of not only a
Harold and Kumar
sequel, but also the Christmas movie aspect, the fact it was shot in 3D and had action sequences and all that entails. And let's not forget about the huge musical number starring Neil Patrick Harris as himself.
The director dishes also about Harris and his "brave" ability to poke fun at himself, and how the film's stars,
Kal Penn and John Cho
, are why these films are so beloved.
Movie Fanatic:
When you first got the script for
A Very Harold and Kumar 3D Christmas
, what was the thing that most popped out for you?
Todd Strauss-Schulson:
There were a couple of things that I just loved. I loved that there was a musical number. I love the Waffle Bot. I loved that there was a big old car crash. I love that the heart of the movie is two ex best friends learning to become best friends again. The whole idea that every seven years you will lose three-quarters of your friends, it's a proven statistic, which I find is true. I loved the idea that the movie was about two guys pushing 30. I turned 30 while filming the movie. You're straddling the idea of being an adult, while still kind of being a kid. I had to act like an adult as a new 30-year-old because I was making a movie and I was being trusted with leading this franchise, but also I just wanted to play in the fake snow [
laughs
] and touch the Waffle Bot.
Movie Fanatic:
As you were settling in to film this, your first full-length feature, were there any kind of nerves, or were you more excited about getting your hands on it?
Todd Strauss-Schulson:
I was excited. I have shot so many short films since I got to Los Angeles, that part of me felt confident. I felt that I earned confidence through my experience. I directed thousands of things before this. I was confident in the ideas of what would be funny, what would look cool in the technical parts of this. I did have a bunch of blind spots. It's overwhelming to have a huge crew and 3D and a studio behind you. Dealing with actors who have played these parts before and being the new kid on the block was also intimidating. But, I thought I could do it well and everyone liked the ideas that I was presenting for the movie.
Movie Fanatic:
Is Mr.
Machete
, Danny Trejo, as intimidating as he looks, or is he just a big softie?
Todd Strauss-Schulson: He's a softie. He's terrifying. He has a face built for 3D, a lot of depth to his face. But, I think he liked the idea of doing this. He was in my original pitch, Danny Trejo in an ugly Christmas sweater holding a three-year-old child and being really sweet. I loved the idea that when Harold opens the door, without even a joke, he gets a laugh. That's who that guy is. All the baggage he brings to the role, that guy is scary. I loved that. He was excited to play a father. He is a father. He liked the idea of being protective of his daughter, as he is in real life. He said to me that this is the most dialogue he's ever had in a movie. I love that monologue with the flashbacks.

Movie Fanatic: What do you think it is about the chemistry of Kal and John that pops off the screen?

Todd Strauss-Schulson: This movie is crazy and zany, there are pedophile priests, there are Claymation penises and a baby on cocaine, it's nuts. But it would completely unravel without those two guys in the middle. A couple things: There's no cynicism with those guys. These movies are not mean. They are sweet. They are nice guys over their heads. I think people respond to that. The movies are raunchy and R-rated, but they're not mean, dark or cynical. And, people compare that duo to Cheech and Chong, but I think it always felt like Martin and Lewis. There's more of a rhythm to it. They're funny.

Movie Fanatic: I just interviewed Tom Lennon. As a director, is that a gift to have someone like him who is such a comic talent?

Todd Strauss-Schulson: I used to watch The State in high school. That was a huge influence on me, just as a comedy person. Meeting him, and hiring him and asking him a million questions, was just amazing -- I totally geeked out. Him with the baby is just so funny.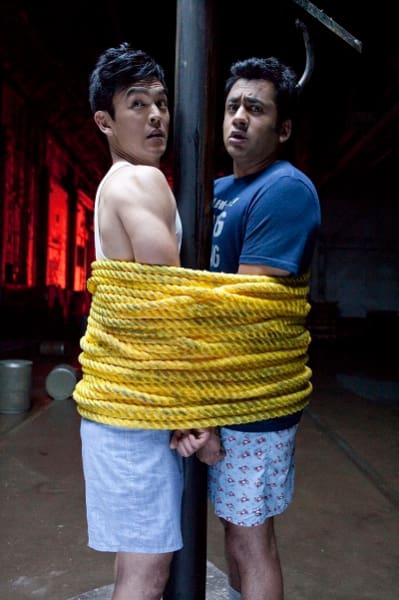 Movie Fanatic:
Neil Patrick Harris, I've never seen anyone throughout this whole franchise be so game at making fun of themselves. When you were working with him, was anything too much?
Todd Strauss-Schulson:
He's brave. Neil is openly gay and has children and a partner. And for him to play that like it's all a mask and he's really a drug-addled woman chaser, he loved the idea of doing it. He loved doing the musical number too. He would do anything. He loves the idea of taking the piss out of himself.
Movie Fanatic:
I read you saw the first
Harold and Kumar
in college. If I had gone back in time and told you you would be directing the third, would you have kicked me out of the room?
Todd Strauss-Schulson:
Yeah, I would have thought you were crazy. Those friends that I was drinking beers with in college watching
Harold and Kumar Go to White Castle
, they are working with me on this movie! They did the special effects in the movie. If you told me that, I would have said, "Shut the (expletive) up. Get out of here, you weirdo!"