Hugo is Martin Scorsese's masterpiece. Sure, that is saying something given the breadth of the director's accomplishments. But that is how brilliant Hugo is to behold.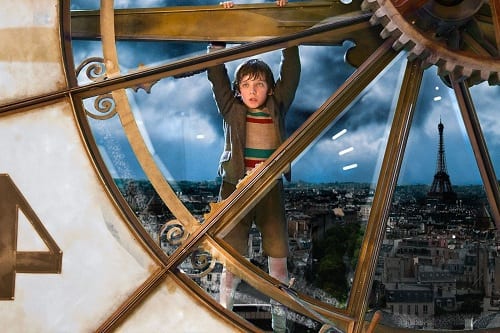 Based on the book
The Invention of Hugo Cabret
by Brian Selznick, the magic that is that literary dream of a novel is captured in every frame of Scorsese's film. The famed director has dissected every moment in the book and, if this is even possible, made it better for the big screen.
Hugo
is the story of a boy named Hugo who lives in the walls of a Paris train station. His father (Jude Law, astounding in flashbacks) passed away and he was taken in by his drunk uncle, who worked as a clock keeper in the train station. When his uncle disappears, Hugo is forced to fend for himself. In the hands of Asa Butterfield (
The Boy in the Striped Pajamas
), Hugo is equally strong, resilient and radiant. The audience immediately pulls for the boy to unlock the clue that is a wired-like-a-clock robot left to him by his father. Somehow, this artifact connects Papa Georges (Ben Kingsley), his adopted daughter Isabel (Chloe Grace Moretz) and Hugo in a destiny that is profoundly moving as it unfolds on screen.
Scorsese has achieved among his finest work with
Hugo
. It's his first film that he has shot in 3D and audiences should not be surprised his mastery of the format is wizardly. The man is a film scientist on top of being a historian and his shots are set up in a manner worthy of history's great artists. The appreciator of all things film dives into the film format, never forgetting that it isn't merely a technical marvel, but a method from which deep emotion and power can be produced. Every inch of film in
Hugo
takes what James Cameron dreamed of for 3D and takes it to a level even that film dreamer could never have imagined.
But that should not be a surprise because at its heart,
Hugo
is a celebration of cinema. Scorsese is one of our culture's highest authorities on film history and he is right in his element with
Hugo
. The magic of
Hugo
slowly unravels to reveal a secret that should be astonishingly rewarding for movie fanatics. 
The casting in Hugo could not be more stellar. Leading the way is Kingsley in a performance that deserves Oscar attention. His characterization runs the entire emotional gamut and serves as the film's emotional barometer. Also blowing doors open with his turn as the Station Inspector is Sacha Baron Cohen (recently announced as playing Freddie Mercury). The comedian is both stern and sullen as a World War I vet who works to police the train station's corridors. Emily Mortimer and Christopher Lee both have small parts, but each plays a pivotal role in the brilliance that is Hugo.

Hugo is one of the best films of the year. It lands easily in Movie Fanatic's top five. Scorsese's latest has everything you want from a movie-going experience, and so much more.