Justin Timberlake scores as an action hero in In Time, co-starring Amanda Seyfried. The film from the writer-director of Gattaca (check out our exclusive interview with Andrew Niccol) is mind-bending fun (as we said in our In Time review).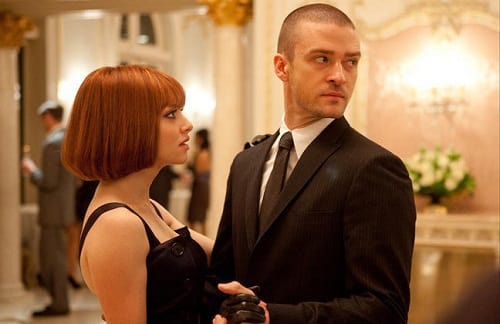 Timberlake plays Will, a man who was born in the poor "time zone" and thus someone who can only live day to day in a world where money literally is time. In the world of
In Time
, people only live to be 25 years old and must buy time for every second after that. The wealthy, in theory, can live forever.
Mad Men's
Vincent Kartheiser is one of the community's wealthiest individuals, Philippe Weis, and when Matt Bomer's Henry decides his rich man has had enough of his time, he gives it to Timberlake's Will and the balance of power drastically shifts. Will meets Sylvia (Seyfried) -- Weis' daughter -- and the two begin an adventure that could bring down the entire system. Hot on their tail is the police, known as Timekeepers, led by Raymond Leon -- played with fierceness by Cillian Murphy.
Besides the non-stop action, the movie gives us some great quotes. Check out all of our In Time quotes, before you run out of time.

Phillippe Weis: You put enough time in the wrong hands, you upset the whole system.
Will: Let's hope so. | permalink

Will: How can you live with yourself watching people die right next to you?
Sylvia: You don't watch. You close your eyes. | permalink

Raymond Leon: His crime wasn't taking time. He was giving it away. | permalink

Will: Whoa, where's the rest?
Manager: You never met the quota.
Will: My units are up from last week.
Manager: So's the quota. | permalink

Philippe Weis: Of course, some think what we have is unfair -- the time difference between zones.
Will: I've heard that.
Philippe Weis: But, hasn't evolution always been unfair? It's always been survival of the fittest. This is merely Darwinian capitalism -- natural selection.
Will: Absolutely. The strong survive. | permalink

Will: Just once I'd like to wake up with more time on my hand than hours in the day. | permalink

Sylvia: Please take me home.
Will: I can't do that.
Sylvia: Why?
Will: You're keeping me alive. | permalink

Will: Four minutes for a cup of coffee?
Will's Friend: Yesterday it was three!
Coffee worker: You want coffee or you want to reminisce? | permalink

Henry: If you had as much time as I have, what would you do with it?
Will: If I had all that time, I sure as hell wouldn't waste it. | permalink