Clint Eastwood has made a movie in J. Edgar that is done with broad strokes that at times can feel slow, but still adds up to a decent piece of cinema. J. Edgar Hoover was the nation's longest-running lawman while he headed up and, frankly, started the FBI. Eastwood cast Leonardo DiCaprio and charged the actor with encompassing decades of an icon's life. DiCaprio meets the challenge and deserves an Oscar nomination for Best Actor for his efforts.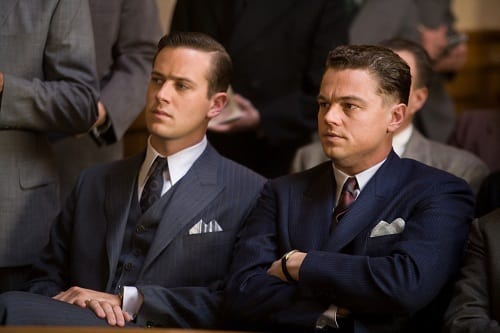 J. Edgar
is told from the standpoint of Hoover as he is dictating his memoir to a typist as an old man near the end of his FBI tenure. Eastwood flashes back to the time period he describes that forces the film to be non-linear and in many ways, that storytelling method makes the film feel disjointed. As each typist questions something Hoover says, he is quickly replaced. It is through these typists that the audience has their questions asked about Hoover's methods. History has shown that they were often illegal and at the least underhanded.
Eastwood doesn't portray the man as a hero, simply as an individual who took his position to protect the citizens of this country from evildoers seriously -- from communists, as is the initial threat when Hoover first takes office, to mobsters who much to the FBI head's dismay had become the darlings of Hollywood, to files he kept on Martin Luther King Jr. who he felt was one of the most dangerous men in America.
The problem with a biopic of this stature and breadth is that when a filmmaker has over 50 years of a person's life to capture in a little over two hours, without a succinct theme to go back to, it can fall flat. Eastwood goes back and forth between the rumored love affair with a fellow FBI agent, Clyde Tolson (an incredible Armie Hammer), and FBI cases such as the Lindbergh baby kidnapping, which only muddles
J. Edgar's
overall message.
What makes J. Edgar more than worth seeing is the acting. DiCaprio is astounding and despite the old man makeup that is oftentimes distracting, he impeccably captures an individual over five decades. Hammer gives a subtle, yet searing performance that also deserves Oscar consideration. Naomi Watts portrays Hoover's long-serving secretary and also delivers in her ability to get inside a character over a lifetime. And the always amazing Judi Dench is Hoover's mother whom Eastwood paints as the single most influential aspect of Hoover's development, morals and how he lived his life.

Audiences expecting a history of the FBI with J. Edgar, which could easily have been the avenue Eastwood went down considering Hoover's establishment of the agency and running it for decades, will be disappointed. Much of the action truly takes place inside of Hoover's office. But, Eastwood's work is a humanizing effort. Through Eastwood and DiCaprio (check out our interview with them), viewers get an understanding of not only who Hoover was, but how he became that way and also slight hints as to what and who filled his heart.
J. Edgar is one of those films that is difficult to review. The acting, directing and look of the film are all stellar. Yet, as a whole, the sum of the parts does not quite add up to the truly fulfilling biopic that we craved.