Adam Sandler movies hold a special place in many an audience member's heart. Jack and Jill should land right in the wheelhouse of expectations for fans of his work.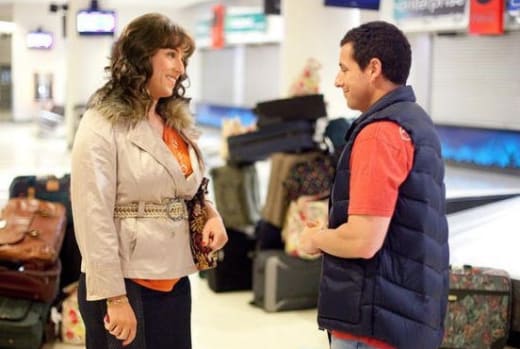 The comedy about fraternal twins, both played by Sandler, is something else in its ability to both feature a slew of fart jokes and an Academy Award winner in the one and only Al Pacino playing himself. This is no cameo. Pacino plays an integral part of the story and gets screen time worthy of a co-starring moniker. He even has the best line in the entire film and it has to do with the "destruction" of his Oscar.
At its core,
Jack and Jill
is an homage to twins. The opening and closing credits introduce a series of real-life twins that serve as bookends to introduce the special bond of twin-hood and provide some additional comic relief.
In
Jack and Jill
, the sister is visiting the brother for Thanksgiving. It is a trip that winds up including New Year's. That six-week period gives Sandler a golden opportunity to milk the dressing-in-drag comedy stalwart and also provide his audience with his normal laugh-worthy cinematic mayhem.
The comic fraternity of Adam Sandler shows up in droves in
Jack and Jill
. Look for character cameos from David Spade, Norm MacDonald and even our favorite Disney pirate joins in the fun.
Katie Holmes stars as Jack's wife. The actress is, unfortunately, merely window dressing for Jack and Jill. But, she would never have signed on if there were not a few moments worthy of her presence. And there are, as Holmes never plays Sandler's wife as a cut-out.
Sandler as Jill eventually begins to wear itself thin to the audience. The storyline with Pacino also comes close to cringe-worthy, yet this is a Sandler movie and as such, the bumps in the road are still a worthy part of the journey.

Jack and Jill is a typical Adam Sandler movie. But it works on numerous levels for the bombastic brilliance with which it aspires. Expect a Happy Madison produced film and all that entails and you will exit the theater with a solid grin.