Jason Segel has achieved a lifetime milestone. Sure, being on a hit sitcom (How I Met Your Mother) could be any actor's aspiration. But, as a lifelong Muppets fan, bringing The Muppets to life for a new generation and the generation that already adores them, was truly the dream of Jason Segel. When Segel met with Disney executives and was asked what franchise of theirs he would love to tackle, he didn't hesitate: The Muppets.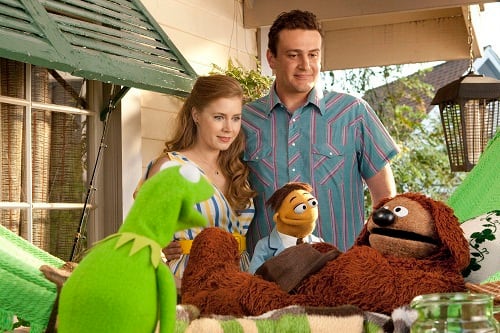 Immediately after the meeting he called his writing partner Nick Stoller and said they needed to get to work on a Muppet movie for the 21st century. Last summer, Segel and co-stars Amy Adams, Chris Cooper and a bevy of Muppets from Kermit, Miss Piggy -- heck, the whole gang -- got to work and the fruit of their labor (check out our 
The Muppets review
) arrives in theaters November 23.
Segel sat down with Movie Fanatic recently and took us through the process of how a lifelong
Muppet
fan became the shepherd of Jim Henson's classic characters' return to the spotlight.
Movie Fanatic:
Did you ever think the world had become too cynical for a return of
The Muppets
?
Jason Segel:
Yeah, but I think that that's why it was time for the
Muppets
to come back. I've thought a lot about this, but I think that the Muppets remind us of the best versions of ourselves. You're instantly transported to who you wanted to be when you were a kid. This sense of sort of wide-eyed wonder that the world beats out of you eventually, the
Muppets
have refused to let go away. And so I think in this cynical world where a lot of comedy now comes at making jokes at other peoples' expense
, The Muppets
refuse to go there. And they've endured for 40 years, I think, as a result.
Movie Fanatic:
You're a big movie and TV star, but were you at all star-struck making
The Muppets
as such a huge fan?
Jason Segel:
I was star-struck [
laughs
]. A lot of the shooting was like a spectator sport for me. I sat back and watched these guys do their thing. I felt like a kid in a candy store, for sure.
Movie Fanatic:
Was there any difficulty getting the studio on board with your vision, or did they completely understand what you were trying to do from the get-go?
Jason Segel:
No, I just think that that's what they perceived we were going to do, because we had just come from
Forgetting Sarah Marshall
, and you know, a lot of these kinds of R-rated Judd Apatow comedies. I think we just had to make sure that they understood that we were coming at it from a pure place. Well, it's hard to get a movie made in general, but I think the big thing that we had to get across was that we weren't trying to do it with a sense of irony, that it wasn't us making
The Muppets
with a wink-wink attached to it, that we had a pure love for
The Muppets
and we wanted to restore it to the late '70s, early '80s Muppet movies.
Movie Fanatic:
What was your first mission when it came to making
The Muppets
?
Jason Segel:
We wanted to preserve that legacy and pay justice to it, and I understand them being nervous, like I said, especially because we were coming from a different style of comedy than I think they were used to. But I think once they see the film, there's no way to walk away with any opinion but that it's a total love letter to the Muppets. Anyone who sees it comes out feeling really happy. It's as simple as that.
Movie Fanatic:
Did you always see Oscar nominee Amy Adams as your co-star?
Jason Segel:
She's like Meryl Streep in the making -- I think she's the best actress of our generation. We didn't know if she would do the movie, but we definitely wrote it with her in mind.
Movie Fanatic:
What surprised you most as an actor about working with the puppeteers?
Jason Segel:
You know, it was more as a writer that I was surprised. We can write all sorts of stuff, from our imagination, but then you get to set and realize that you have no idea logistically how to accomplish what you've written. Like we had a scene when Gonzo's building explodes, we originally wrote that to be a full-frame, slow-motion shot of ten Muppets running away from a building that explodes.
Movie Fanatic:
Is this the beginning of a
Muppet
franchise for you?
Jason Segel:
Our goal was to set the stage for
The Muppets
to do whatever they wanted from here on and to let them take the torch and run with it. It really was just about giving them an opportunity to get them back on the forefront of comedy.
Movie Fanatic: With a hit show in How I Met Your Mother and filming The Muppets, writing and filming Five Year Engagement… how do you do it all?

Jason Segel: I don't know. I work a lot. I'm pretty tired a lot of the time. I don't sleep all that much. I've been working really hard. I'm kind of thinking pretty soon it's going to be time to just take a little break.

Movie Fanatic: Finally, you have to dance quite a bit in the film. Was that a challenge for you?

Jason Segel: I have a body that was made for dancing. You can tell just by looking at me that it would probably come natural to me [laughs]. So I felt very comfortable. I often think if I wasn't an actor, I would probably be a dancer. I dance all the time. I've invented a lot of dances.