Michelle Williams is Marilyn Monroe on so many levels in My Week with Marilyn. It's hard to think how the actress will not be earning an Academy Award nomination for Best Actress.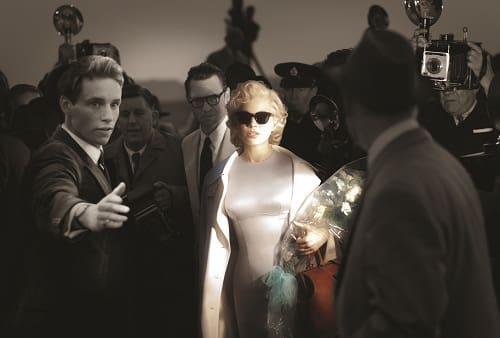 My Week with Marilyn
, based on the memoirs by Colin Clark, has arrived on screens and is easily one of the best of the year. The film is not only astounding because of the performance by its lead actress, the entire ensemble is fantastic, the script is taut and Simon Curtis' direction is perfection.
When Monroe went to Britain to film
The Prince and the Showgirl
with director-star Sir Laurence Olivier (Kenneth Branagh), she was at the cusp of being an international icon and was desperately trying to be taken seriously as an actress. She brought legendary acting coach Paula Strausberg (Zoe Wanamaker) along and the shoot would prove challenging for all those involved.
One who found the period of the best of his life was Clark. A production assistant to Olivier, Clark was assigned to serve as Monroe's aide throughout the shoot. Monroe found great comfort in the Brit's company and their week-long relationship is chronicled in
My Week with Marilyn
. In the film, through Clark's eyes, audiences see a side of Monroe that shows her as vulnerable, yes, but also someone with a clever sense of humor coupled with a sprinkle of mischief and a whole lot of self questioning.
Eddie Redmayne is Clark, a child of privilege who could do anything he wanted in life, but chose the artistry of the cinema as his life's dream. His wide-eyed passion for the art form shows itself in the film's opening moments as he does anything he can to get a job with Olivier's production company. Besides providing a window into Monroe, his young eyes also give the audience a look into the wonder of a movie fanatic who is living his dream working on a film set.
Then, there is Williams. Her performance as Monroe is a marvel. It goes beyond anything she has done before and that is saying something. She is not doing an imitation of Monroe. Her take is unique. Williams gives the superstar layers that are all at once powerful ingénue, human soul yearning for acceptance and an individual seeking respect within the confines of her career that has only painted her in one light: Song and dance sex symbol. Williams has given a career best turn as Monroe. She literally and figuratively sings on the screen and rivets with every second.
The supporting cast of My Week with Marilyn brings their A-game as well. Branagh is his usual astounding self capturing a legend that is human in every way. Julia Ormond inhabits his wife Vivien Leigh with a flair that makes her one of the film's most joyous surprises. Judi Dench, well, is her usually delicious Dench self with her performance as aging British actress Dame Sybil Thorndike. Emma Watson takes a small role as a wardrobe assistant working on the film that shows she is much more than Hermione. And finally, Dominic Cooper also takes his small role as a Monroe production company executive and delivers a knockout punch with every frame in which he appears.

Director Curtis has crafted a piece of cinema that will stand the test of time. It captures a moment in film history when an actress went from being a celebrity to a Hollywood icon and he's given it heart, texture and timelessness. Curtis employs an even hand and tells a story that could have solely focused on an icon and instead paints a canvas of light and dark with layers of gray -- much like life itself.