Our Idiot Brother Exclusive: Director Jesse Peretz on Paul Rudd and a Casting Coup
by Joel D Amos at . Comments
To celebrate the Blu-Ray release of Our Idiot Brother, director Jesse Peretz (who co-wrote the script with his sister) phoned Movie Fanatic for an exclusive interview. Our Idiot Brother marked a reunion for Peretz with his longtime friend Paul Rudd. The pair first worked together a decade ago on The Chateau and when Peretz composed the script, he had Rudd in mind for the part of Ned, the Idiot Brother of the title who proves to be more than a handful for his trio of sisters (Emily Mortimer, Zooey Deschanel and Elizabeth Banks).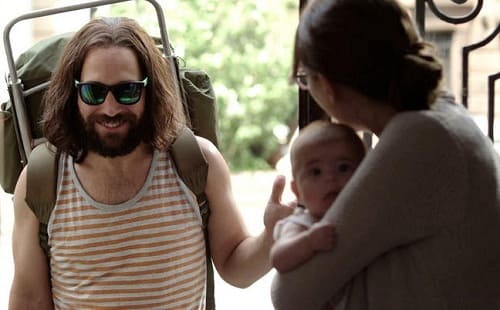 Peretz talks about the making of the film (check out my
Our Idiot Brother review
) and how a fantastic cast came together in the most serendipitous of ways to make one of the more charming, entertaining, touching and humorous movies of the year.
Movie Fanatic:
A film like
Our Idiot Brother
, was it a labor of love?
Jesse Peretz:
It definitely was. The thing is I think of the phrase "labor of love" implying it was really hard and [
laughs
] the thing with this movie, compared to most things I've worked on is that weirdly it came together without a whole lot of effort. In that sense, I really felt blessed with this one. With that said, if nothing else, it felt like a family affair. It's a movie that I scripted with my sister and brother-in-law. I cast it with a number of my friends, who were friends with each other. Nobody really got paid, but we really did have an incredibly good time making the movie together. Every day was pretty joyful.
Movie Fanatic:
As the creator, when the yeses came in with that cast, was it a pinch yourself moment? What was it like when you got everyone all together?
Jesse Peretz:
I started feeling that I was ridiculously lucky in terms of the quality of people who were signing on to do my movie, especially the fact that everybody was just getting paid scale. Obviously, even though Paul and I had done a movie together ten years ago and the script was developed for him, I had made a choice not to tell him about it until the script was completely done. I didn't want him to feel that it was an obligation. I wanted him to decide that he wanted to do it or not and not have an obligation to me. That was the biggest fear was, what if he doesn't want to do it? He was the best guy in the world to play this character. This is a movie that was going to pivot around who played this character and how the character was going to be played. That was the biggest sense of relief and celebration when he read it within 24 hours of me giving it to him and saying he wanted to be a part of it. [
Laughs
] That was a huge relief. Then, it was so quickly cast. Within two weeks we had these roles cast. We also wrote the script with Zooey in mind to play Natalie and Emily Mortimer to play the character of Liz. They're both friends of mine who I had talked about this with. But still, the amazing thing was that we were able to make everyone's schedule work at the same time. Then, getting people like Steve Coogan to play a relatively small part really blew my mind. He is a guy that I have worshiped for years. He is a comedic genius. We had no rehearsal. Everybody was in and out. It was a complicated jigsaw to pull together who could be in when. Zooey was in and out four times making the movie.
Emily Mortimer
couldn't start until 12 days into the shoot. But, those first days where we had the whole cast together, it felt like I was at my five-year-old birthday party [
laughs
]. The amazing thing was how much fun they had with each other. If there was anything that I was worried about, it was having in particular so many women actresses, you feel that there's this cliché about actresses having issues sometimes with one another. They all enjoyed each other so much. It was incredibly fun.
Movie Fanatic: I gathered that because the performances, between the women in particular, seemed so effortless. Being that this story came from family and is about family, could you ever have imagined the cast would come together as a family too?

Jesse Peretz: I never thought the cast would come together on such a level. I was positive we would cast good people to be in the movie. But, obviously I didn't think I would be so lucky in terms of who they were as people. I do think a big worry that I had was that we didn't have any time for rehearsal. There was no preparation time. People rolled in and out for the days of work they had. I wondered, "Is this really going to feel like a family? Are they going to have enough time to work out that rapport that makes them believably feel like siblings?" I was really gratified in the end. They did manage to find that connection with each other. A lot of those actors had worked together one way or another. There was a level of comfort there.

Movie Fanatic: Where did the idea of Our Idiot Brother come from? Do you know someone or do you have an Idiot Brother?
Jesse Peretz:
[
Laughs
] On some level, our hope with the title of the movie,
Our Idiot Brother
, was that people would recognize that on some level anyone that has siblings has at least some period where they feel that their sibling is an idiot. "Oh, my idiot brother. My idiot sister." In that sense that is the nature of the sibling relationship. Our hope was people would see the universal concept of that's what sibling relationships are like sometimes. The burdens that they put on you at times can be frustrating. That said, obviously Paul plays a really particular character. Definitely his character was an amalgamation. He and I have had a bunch of false starts on projects over the years from when we made
The Chateau
together and
Our Idiot Brother
. So, I thought this character had the qualities of other characters that we had discussed over the years. I knew there were things that he would like to play and I wanted to see him play. There is this guy Jeffrey, a brother of one of my good friends. I heard this story before we started working on the script of this guy Jeffrey who was a medical marijuana farmer who had gotten into trouble stretching the rules of dispensing. He was looking at some jail time and managed to get out of it by joining a monastery in Oakland that was doing good things in the community. Since then, he made a total change. It was the early stages of working on the script when we were figuring out the story and the characters, I had dinner with him and he was the most judgment-free, cynicism-free man I've ever met. He was the sweetest guy and it was easy to see how he drove his brother, my friend, crazy. Yet, it all came from how open, kind and naïve he was. I came out of this dinner with this clear vision of who this character was going to be and how his point of view about the world was going to trigger all the complications of the story. There was one person who caused us to put all the pieces together with a sense of clarity that was missing for us.