Alexander Payne has done it again with The Descendants. The writer-director of Election and Sideways has returned after several years and produced an instant classic and a love letter to the state of Hawaii. Plus he's gotten the performance of a career out of George Clooney.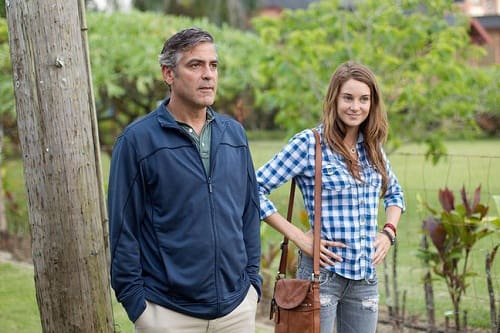 Clooney plays Matt King, a man whose marriage is in trouble, and his two daughters are acting out, while the entire state of Hawaii awaits his decision on a historic swath of land.
Then tragedy strikes. His wife has a boating accident and lands in a coma. King must cope with the news while playing catch-up. Clooney's character has been an almost absentee dad and must now take his ten-year-old on a flight to another island to pick up his wayward teen daughter Alexandra (
The Secret Life of the American Teenager's
Shailene Woodley). There is a clear discord in Matt and Alexandra's relationship and in many ways it serves as the core of
The Descendants
' storytelling. To watch these two actors perform their perfect tennis volley of performance is simply one of many reasons the film is of the best of the year.
When King discovers -- through Alexandra -- that his wife had been cheating, the film ventures into complicated waters. Watching this family cope with bad news upon punched-in-the-gut news is handled with such grace by Payne and his cast. In a pivotal scene where Clooney gets enraged at his wife laying in a coma, it is powerful to the ninth degree.
An impressive movie also must have step-up-to-the-plate performances from its supporting cast. Amara Miller is the ten-year-old Scottie King who delivers a turn well beyond her years. And Woodley is astonishing going toe-to-toe with an Oscar winner in Clooney. It is her character arc that is the widest in
The Descendants
. The actress carries it off with a believable portrayed journey of a teen going from adolescence to young adulthood in the span of a few days. Both Matthew Lillard and Judy Greer deliver in their supporting roles as a couple central to not only the unfaithfulness of Clooney's onscreen wife, but the land deal that has the state's attention and weighs on Matt King's conscience.
Then there are the veterans who shine in roles that could have been forgotten mere moments. Robert Forster (
Jackie Brown
) is Clooney's father-in-law grappling with tragedy on two sides. His wife is slipping into dementia while his daughter lies in a life-threatening coma. Forster's military man is used to order in his life that now has none. Beau Bridges is Clooney's cousin Hugh. Bridges inhabits him as a middle-aged surfer dude, yet never slips into his brother Jeff Bridges' iconic The Dude mode.
The brilliance of
The Descendants
truly lies on two sets of shoulders. Writer-director Payne has produced the finest of his fine film work. The ebb and flow of his story reflects life itself. Amongst tragedy, humor can arise. Hope lives where sullen news could permeate. Payne's world of the King family possesses a dynamic that exists where the word powerful is too tame of a description of its supremacy over every inch of film.
The second set of shoulders belongs to Clooney. The actor deserves a Best Actor nomination and, in our opinion, deserves the golden statue with his astounding work. He compels his audience to not even blink while he performs. Commanding every moment, Clooney reminds us that he is the leading man of Hollywood today.

But what is so great about The Descendants is it could have been the George Clooney show. Although he is at his best, the film is a collection of its parts, all pulling together to let the world know why the movies are so magical.