The Son of No One should announce its star, Channing Tatum, as a dramatic actor to be taken seriously. Tatum portrays an NYPD officer who returns to the Queens neighborhood precinct where he grew up. His wife, a riveting Katie Holmes, tensely awaits his return every night to their Long Island home. She is not finding the cop wife's life easy, especially with a young girl.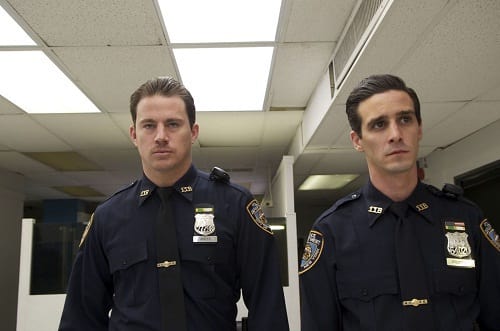 Tatum's character is haunted by his past that in
The Son of No One
slowly simmers from the background of the film to its central explosive storyline by the second act. Something happened to Tatum when he was a child in the Queens projects that he had hoped was buried deep in his memory only. The only problem is a local Queens reporter (the always awesome Juliette Binoche) is getting anonymous letters from somebody claiming that a current NYPD cop has gotten away with two murders. As the newspaperwoman digs, the walls begin to close in on Tatum.
In a stroke of casting genius (and when is using this actor never not genius?), Al Pacino is -- in 2002 when the film takes place -- a higher-up member of the NYPD brass. But in our flashbacks to the 1980s that slowly begin to unfold the mystery of what happened to Tatum, it is Pacino's character who aids Tatum in a cover-up that in 2002 may bury them all.
Writer-director Dito Montel has weaved a web of intrigue that, painfully in a good way, stays just below the surface and effectively dishes out just enough morsels of plot points as the movie moves along. There is a fire burning that as an audience, we wonder when it will explode into a full-fledged inferno. And believe us, it does.
The film also stars Ray Liotta, one of our more underused actors, in a performance that will shock. Tracy Morgan portrays Tatum's childhood friend all grown up who is haunted by what they experienced as kids. So much so, that he has spent time in mental institutions simply to cope.
The Son of No One's
title emerges from the fact that Tatum's character grew up without a father. His dad was also an NYPD policeman, yet died on the job when his son was very young. Tatum's character becomes a child of the streets, and therefore truly…
The Son of No One
. In Tatum's hands, his powerful performance is the vehicle through which the audience painfully and grippingly revisits his past in order to hope for some semblance of a future.
Will he have one? Tease yourself with
The Son of No One trailer
and begin that journey.