The Twilight Saga: Breaking Dawn Part 1 arrives in theaters November 18 and the first part of the final chapter in the Stephenie Meyer series is already breaking records.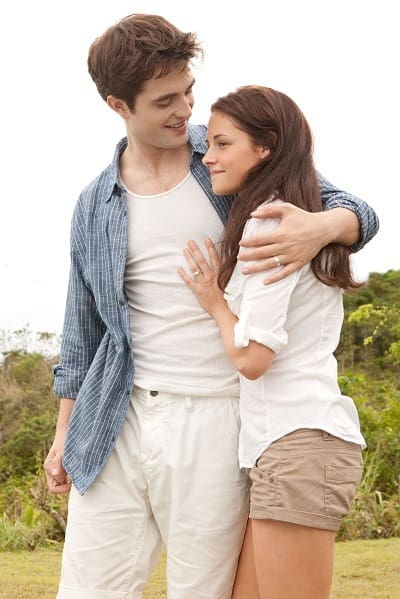 The movie ticket site Fandago is reporting that almost three-quarters of its total ticket sales currently are for
Breaking Dawn Part 1
. That is an astounding statistic considering all the films that are out there, it's Oscar movie season and three potential blockbusters are opening for the
weekend of November 11
.
But yet, should we be surprised? Hardly! This is a
Twilight
film after all and the fan base has always shown its passion in a way that puts the fan in fanatic, to put it mildly.
Fandango is also reporting that over 1,000 showings of
The Twilight Saga: Breaking Dawn Part 1
have already sold out, virtually guaranteeing that the film will debut at number one. The only question remaining is not whether it will be a blockbuster, but how much of a hit.
New Moon
sold $296 million worth of tickets while
Eclipse
shot past $300 million. Here's betting that
Breaking Dawn Part 1
tops $350 million.