Tower Heist is terrific and should prove to be a huge shot in the arm for the career of Eddie Murphy. As the film has arrived in theaters (don't miss our Tower Heist review), Movie Fanatic thought we'd take a look back at the best of Eddie Murphy in movies.

10. Shrek series
Can you imagine anyone else voicing the character of Donkey? Hardly! Shrek is one of the most profitable franchises in Hollywood. All one has to do is visit Universal Studios Theme Park in Los Angeles and get near the Shrek ride and a voice dominates: Murphy as Donkey. Sharp writing and stellar animation proved to be a winning combination for the Shrek films. Yet, above it all, Murphy shines as Donkey. Seriously, imagine the world of Shrek without Murphy's Donkey. You can't.

9. Dreamgirls
Murphy was nominated for an Oscar for his role in Dreamgirls. Sure, he famously stormed out of the theater when he didn't win, but that shouldn't take away from the astounding work he did in the role of James "Thunder" Early. Channeling his inner James Brown, Murphy found a character destined to become one that would steal every scene he inhabited in Dreamgirls. Again, imagine Dreamgirls without Eddie Murphy. You can't.
8. The Nutty Professor
How do you follow up any iconic role that was created by Jerry Lewis? Why not turn the film's idea on its head and cast Eddie Murphy and put him in a fat suit. The Nutty Professor, circa 1996, was a comic masterpiece. The dinner scene has become a standard for multiple characters played by the same actor, with hilarious results.

7. Mulan
One of Murphy's first forays into animation was epic. Disney's Mulan is a modern classic. Murphy took a chance with his role in Mulan which came up roses.

6. Tower Heist
After years of waiting for the perfect film, Murphy found the perfect role for him in the perfect film for him. Tower Heist brings back memories of Murphy and a comic partner in crime such as Nick Nolte in 48 Hours. In Tower Heist, Murphy is joined by Ben Stiller, who is more than up for the comedic game. What else is magical about Murphy's presence in Tower Heist is his willingness to become part of the ensemble of A-list actors who produce A-plus results.
5. Raw
Considered the standard for stand-up comedy movies,
Raw
is also the perfect title for a movie that captures Murphy at his prime as a stand-up comic.
4. 48 Hours
Exploding like an atom bomb, Murphy announced himself as a force of nature in 1982 with
48 Hours
. Murphy is a jailed con who gets a pass into the real world to help Nick Nolte's cop find a group of prisoners who have escaped and are wreaking havoc on San Francisco. Audiences found Murphy completely at ease making the jump from
SNL
on TV to the 70-foot big screen. In fact, many -- like
Michael Pena
-- cite this film as one of their inspirations for making
Tower Heist
as a triumphant way of employing comedy with crime and producing something audiences treasure.
3. Trading Places
Murphy did his comic dance in
Trading Places
with Dan Aykroyd. The two
SNL
stars came together and crafted a comedy that was timely, terrific and comically crazy cool. Two rich guys decide to embark on their own social experience and audiences become the benefactor of brilliance. Murphy effortlessly moved from street con to upper crest financial advisor that illustrated the actor's skills in spades.
2. Beverly Hills Cop
After
48 Hours
and
Trading Places,
Murphy scored a slam dunk with
Beverly Hills Cop
. Murphy arrived as a perfect storm in a movie right in his wheelhouse, with a soundtrack that would become a sensation and a story that compelled audiences into a mystery that is still cited as how a filmmaker can craft comedy, crime and suspense all within 100 minutes.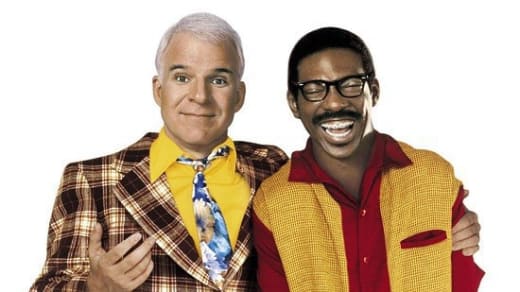 1. Bowfinger
As a comic actor,
Bowfinger
showcases Murphy as an acting genius. Portraying the paranoid movie star and the ah-shucks movie extra for Steve Martin, Murphy's finest film entertains while it enthralls us in the mastery of Murphy's magic.
Bowfinger's
most hilarious moment is courtesy of Eddie Murphy. Cued by Martin's director, he steps out onto a Los Angeles freeway for a "scene" that is integral to their independent film "starring" a huge Murphy-like movie star. As he walks past speeding Angelinos in their cars, the gift that is the actor's astonishing gift of performance permeates.