Ben Stiller, Eddie Murphy, director Brett Ratner and the entire Tower Heist cast and crew have done something impressive with their film.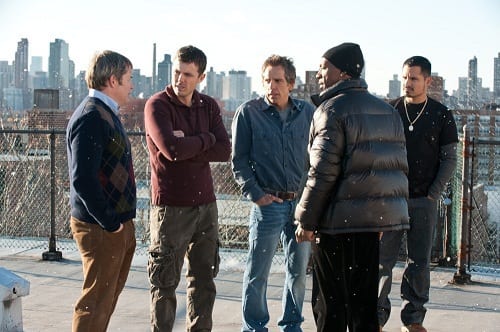 Of late, odds of scoring with a combination of action, intrigue, suspense, comedy and great acting seem quite low. Steven Soderbergh achieved that with his
Oceans
series minus the hilarity.
Tower Heist
is a true heist film in the most classic of ways, but it is also a hilarious film that is constantly firing on all cylinders: Comedically and dramatically.
Stiller and Murphy (don't miss the pair's
Tower Heist interview
) headline a cast that is all game for achieving a
Dog Day Afternoon
meets
A Fish Called Wanda
movie. Each performer, despite being stacked with actors who could headline their own film, knows their place and perfectly plays their spoke in the wheel of this fun film.
Alan Alda portrays a Wall Street tycoon, and the luxury building's most beloved resident, who is arrested for fraud. Turns out, he also milked the staff of The Tower, as it is called, for their entire retirement and savings. Stiller is the esteemed building manager who essentially leads a revolution to get their money back by any means necessary. Tea Leoni delightfully does her thing as the FBI agent leading Alda's arrest. Michael Pena scores as the new bellhop and Casey Affleck finds a new voice in his portrayal of an apartment building employee who is expecting a child any minute now. Matthew Broderick could have made an entire movie out of his role as a building resident who is broke, about to be evicted and someone who got sucked into the financial whirlpool that was Merrill Lynch. And yes, he's willing to add his two cents to the robbery. There's $20 million that the Feds cannot account for and Stiller believes it's in Alda's apartment. Cue the action.
Who to turn to for heist advice? Stiller connects with a childhood acquaintance (Murphy) whom he bails out of jail to lead the robbery.
Tower Heist
has several "training" sequences that are filled with utter hilarity while still moving along the plot at a rapid pace that is felt from beginning to end.
Director Brett Ratner (Rush Hour) returns to his roots and crafts a film that crackles with its crime element, but mostly from the jovial dialogue between Tower Heist's cast. Murphy and Stiller are an action comedy team for the ages. We hope this is the first of many more collaborations between the two decidedly different comic actors. Alda bathes in the glory of portraying one of the more timely villains at the movies, Affleck is in a zone, Pena does deadpan so subtly, who knew his comic timing could be so perfect?

Brilliantly surprising -- that is how Movie Fanatic would describe Tower Heist. Who knew a heist film could be so funny, thrilling and smart?