We Bought a Zoo gave Cameron Crowe, Matt Damon and Scarlett Johansson fans something to be thankful for over the Thanksgiving weekend: A special sneak peek at their new film. 20th Century Fox reported that the film's response was unprecedented as it "scored the highest ratings in a sneak previewed movie that we've ever seen."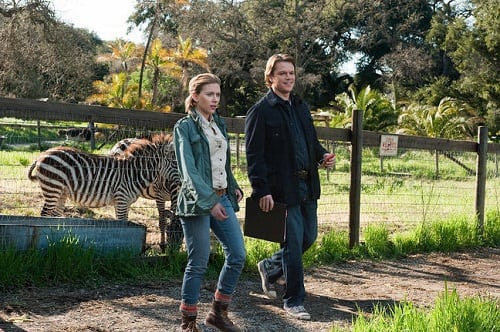 The story of
We Bought a Zoo
follows Damon's Benjamin Mee, a man whose wife has just died, and he moves his family to the Southern California countryside where he buys a rundown zoo and takes the challenge that is bringing it back to life. Johansson portrays a zoo employee integral to Damon and his family's success in resuscitating the zoo. Also starring in
We Bought a Zoo
is one of our favorite promising young actresses in Elle Fanning (
Super 8
).
The weekend sneak peeks clearly struck a chord with audiences for the film that is due in theaters nationwide December 23. The audience exit polls our Fox source commented on above are astounding. Of those who saw the film last weekend, 70-percent rated the film excellent, 94-percent (!) gave it a highly favorable and 82-percent said they would definitely recommend. Those are some seriously good numbers!
The studio also reported
We Bought a Zoo
sneak peeks sold out in the following cities: New York, Philadelphia, Boston, Albany, Orlando, Memphis, Kansas City, Minneapolis, Detroit, Salt Lake City and Los Angeles. Looks like Crowe has his next hit on his hands!
Check out the
We Bought a Zoo
trailer: