Movies' great genres are on full display this weekend at the Cineplex. Audiences can choose an action-comedy heist flick (Tower Heist), an outrageous comedy (A Very Harold and Kumar 3D Christmas) or a terse drama (The Son of No One) that should make its star, Channing Tatum, thought of as a serious actor.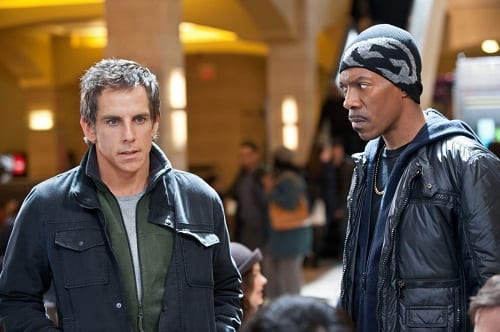 Tower Heist:
Eddie Murphy and Ben Stiller
are an action-comedy dream team in
Tower Heist
, the latest from director Brett Ratner. Stiller is the manager of New York City's most luxurious residence whose richest resident is suddenly charged with fraud. Alan Alda plays the Wall Street financier with panache that shows why he is such a legend. But, the true stars here are not only Murphy and Stiller in a teaming we hope to see again in films, but also its supporting cast led by Casey Affleck, Gabourey Sidibe, Michael Pena, Matthew Broderick and Tea Leoni. Don't miss our
Tower Heist review
.
A Very Harold and Kumar 3D Christmas: Kal Penn and John Cho are back in the roles that made them famous. This time out, Harold and Kumar begin the film as estranged friends who must come together to save the Kumar family Christmas. Tom Lennon (Reno 911) steals scenes, a baby does things no baby should do and overall, the Harold and Kumar team have surprisingly made a Christmas film worthy of becoming a holiday tradition. Curious? Then be sure to read our A Very Harold and Kumar 3D Christmas review.
The Son of No One: Channing Tatum rivets in the role of an NYPD cop whose past is about to rear its ugly head and threaten not only his future, but the reputation of the entire New York City Police Department. The film co-stars Al Pacino, Katie Holmes, Ray Liotta, Juliette Binoche and in a shockingly good turn, Tracy Morgan. Check out our The Son of No One review.