Pixar's first leading lady, Merida, gets her close-up in a new still from their upcoming film Brave. As we can tell from this photo, Merida (Kelly Macdonald) is an expert at archery and that plays into a key part of the plot.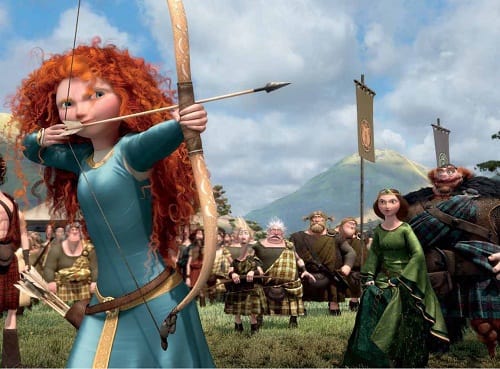 Brave
takes place in the Scottish Highlands where King Fergus (Billy Connolly) and Queen Elinor (Emma Thompson) are ready to have their daughter Merida get married. A trio of suitors will arrive to compete in a series of games that will determine who gets Merida's hand. The only problem is once Merida decides to participate in the games, she winds up winning many of the contests!
Pixar's latest is the first to feature a female lead and anticipation for the film could not be higher. The trio of suitors are played by a trifecta of talented Scottish actors: Craig Ferguson, Kevin McKidd and Robbie Coltrane. And be sure to check out the first
trailer from Brave
.
Brave
arrives in theaters June 22, 2012 in Disney Digital 3D.