The first thing Alvin and the Chipmunks: Chipwrecked has going for it is one great title. Chipwrecked as a moniker for a movie about the Chipmunks being stuck on a deserted island after falling off a ship is no less than impeccable.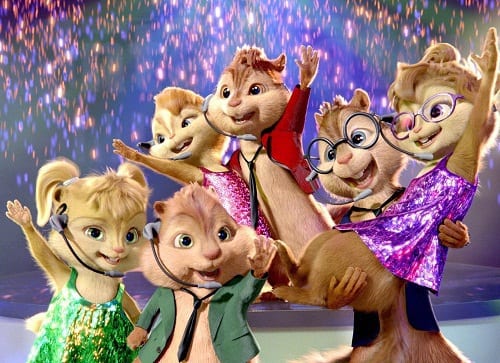 Then there's the CGI. The Chipmunks have come a long way as the technology has grown. Visually, they look about as real as Chipmunks can be… that is talking Chipmunks who sing in super high-pitched voices. From the wind blowing their hair to their moving mouths uttering their lines or singing songs, the CGI in
Chipwrecked
is top notch and kids will go absolutely crazy for it.
But, in terms of the story for
Chipwrecked
, it kind of misses the boat. Dave (
Jason Lee
) takes the Chipmunks and Chipettes on a week-long cruise for a little R&R before they are supposed to perform at the International Music Awards. You could guess that it is Alvin that gets the gang into trouble. So much trouble, all involved fall off the cruise line, get separated and land on that deserted island we mentioned earlier.
Audiences do not take in the Chipmunk movies for the plot. What they go to see is good entertainment for the entire family and maybe a lesson or two for the kids to chew on.
Chipwrecked
more than provides that. Also a huge element of the first two Chipmunk movies' success is parents have no problem taking their kids to the films as the instant nostalgia for the furry fellows permeates the film. For many adults, the Chipmunks' Saturday cartoon was an island of joy in an ever-crazier world.
Much of their appeal back in the day and on screen for the younger generation is their music. With Chipwrecked they have scored a soundtrack that is the best of the movie trilogy. Songs such as Vacation (which literally begins the movie) sound impeccably mixed with all six voices (Chipmunks and Chipettes) and are pure ear candy. The same can be said for their rendition of Pink's Trouble, Destiny Child's Survivor and Lady Gaga's Born This Way.

Chipwrecked does get lost and it happens as soon as Dave and his Chipmunk brood step on the ship. The gaffes are predictable, yet they won't be to children. The storyline could have been written on a cocktail napkin, and also children will not care. Alvin learning responsibility while Simon loosens his proverbial tie is a tale that has been told before in the Chipmunks world. But, yet again, with the youngest moviegoers, it will hardly matter. Sense a theme here? Chipwrecked is OK as a whole, albeit super cute for adults -- and one terrific ride for kids.